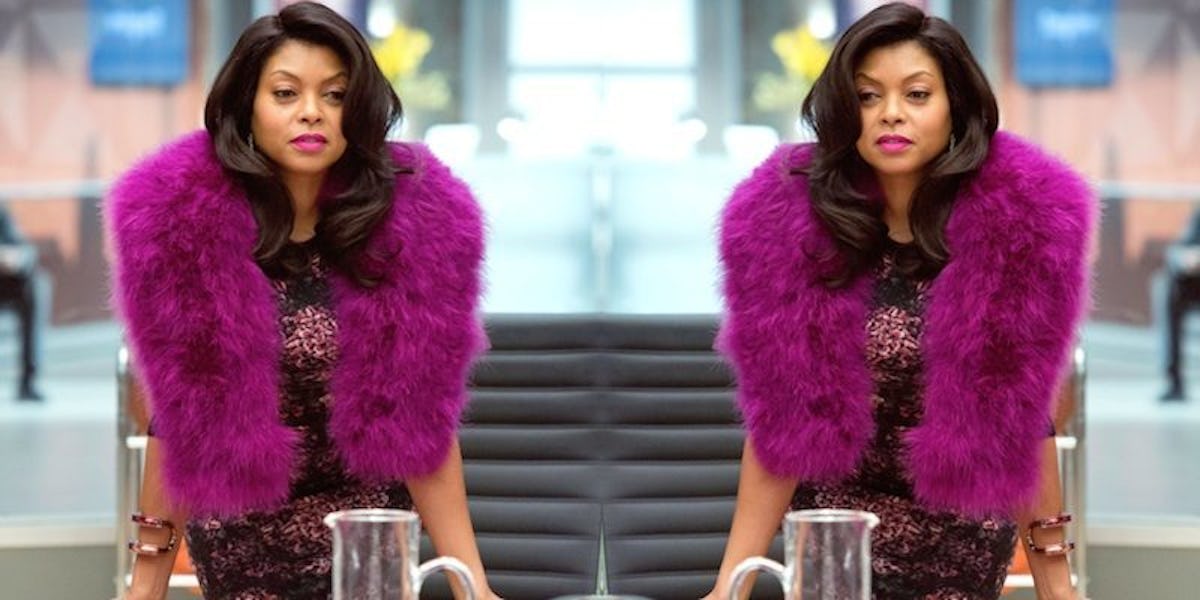 4 Stylish Ways To Dress Like The Fabulous Cookie Lyon From 'Empire'
FOX
Few women on television are more badass than Cookie Lyon.
The lady gets out of prison in the very first episode (after serving 17 years, natch), beats the living sh*t out of one of her sons after he disrespects her and, of course, let's not forget her catfight with Boo Boo Kitty.
Basically, we all want in on Cookie's cookies (or, at least, her fur-heavy and bandage dress-laden wardrobe).
While we can't all live the Cookie lifestyle -- unless you're a billionaire with a beau who runs a music empire -- we can still copy our favorite Lyon on our next night out.
Order some "Empire" champagne, slip on your furs and "Drip Drop" your way to the club with these looks.
For when you want to show off your "Lyon" spots
Cookie might be a Lyon, but she has enough leopard in her wardrobe to make any jungle cat jealous.
Pair a skintight leopard dress (as if Cookie would be caught dead in something "flowy") with your favorite white (faux) fur.
Keep the hemlines long here. You want to balance out the bold print with a more demure silhouette. And make sure you don't forget your black pumps. You know, in case you need to throw them at Lucious' head.
For reminding Boo Boo Kitty who runs this sh*t
Everyone has a Boo Boo Kitty -- your ex's new girlfriend, that one bitch at work who's trying to steal your office crush or the roommate who ate your leftover Chinese food.
Basically, this look is for making sure that bitch knows never to mess with you again.
Pair a long-sleeved, geometric dress with your most dagger-like black pumps (again, great for throwing).
We suggest taking off those silver hoops prior to teaching Boo Boo Kitty what's what, though -- no need to end up in the hospital.
For the white party
Basically, this is the one night when eating spaghetti will be totally out of the question.
Make a white jumpsuit Cookie-friendly by sticking with as low a cut as you can. Just make sure it's lower than Boo Boo Kitty's...
Add some gold jewelry (maybe a chain to match Hakeem?) and nude pumps and you're ready to take what's yours.
For a "friendly" get-together
You think you're finally on good terms with your ex -- he just invited you to dinner, after all -- and you've dressed appropriately for the occasion.
The catch? It's a family dinner; he brought Boo Boo along and she just announced their engagement. Bam. Instead of attempting to kill the bitch (which you'll do soon enough, anyway) walk out with your best asset. Why not?
The lingerie and the fur should be enough to make a statement that lasts long after you leave.