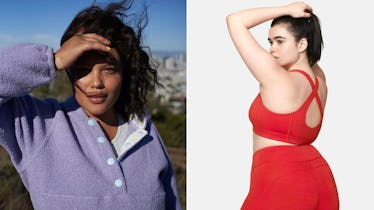 Outdoor Voices' Black Friday Deals Are Here To Reinvent Your Workout Wardrobe
Are you making a list? Checking it twice? Whether you're on Santa's naughty or nice list, everyone wins on Black Friday. Years ago, visions of the retail holiday weren't exactly decorated with sweet deals and happy customers dancing through the aisles. Black Friday was more like a bargain shopper's worst nightmare: leisurely thrifting turned competitive sport. But now, purchasing gifts post-Thanksgiving is more popular, and more casual than ever, because stores give you more time to browse before committing to a purchase. For instance, the Outdoor Voices 2018 Black Friday sale has been extended through Cyber Monday this year, plus the fitness apparel retailer is making it possible for customers to score discounts from the comfort of your own couch. Guys, that means you don't even have to wake up early to beat the crowd, nor do you even have to get dressed for the occasion.
The Outdoor Voices Black Friday sale is actually pretty simple, in that it gives the people what they want: athleisure for less. And, I mean, isn't that what we all want, really? Personally, I know my goal every Black Friday is to buy a pair of comfortable leggings that make my tush look fabulous, and that are versatile enough for me to fashionably sport a pair at the gym, and at Friendsgiving brunch.
Outdoor Voices delivers just that, and more. I mean, have you seen the brand's hoodies?! Feast your eyes on Outdoor Voices' MegaFleece Pullover, for instance, and tell me you're not penciling it into your wishlist right now.
Sticking to tradition, Outdoor Voices' Black Friday deals officially start on Friday, Nov. 23, and run through Monday, Nov. 26. Customers can score 40 percent off select styles throughout the four-day period, and the longer the sale goes on, the more styles that'll get added to the discounted roster. It's like the thrifty gift that keeps on giving, y'all.
And if you don't have an Outdoor Voices brick and mortar near you, no sweat! The discount applies to online shoppers, too, perfect for those of us who are expecting a post-Thanksgiving food coma and don't feel like braving the crowds. The whole mall experience on Black Friday can be entertaining and all, but if you can save your dollars and indulge in a Thanksgiving leftovers sandwich simultaneously, why wouldn't you?