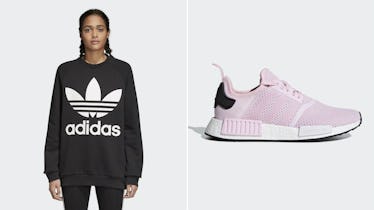 Adidas' Black Friday Sale Is Honestly What Athleisure Dreams Are Made Of
Is it just me, or is it beginning to look a lot more like Black Friday every time you open your email? With brands sliding into your inbox with bigger pre- and post-Thanksgiving promotions than last year, forget strategizing over which stretchy pants to wear to holiday dinners and Friendsgiving brunches. I don't know about you, but I'm too busy mapping out the best athleisure discounts so I don't miss a single sale. Priorities, amirite? But athletic-wear goes beyond yoga leggings, my friend (hard to believe, I know), and the Adidas 2018 Black Friday sale is bae if your go-to sneaks are looking a little rundown, or you're looking for a track jacket to keep you warm through winter workouts.
FYI, Adidas is ahead of the game this season. It looks like the brand's Black Friday and Cyber Monday sales have already kicked off, and will continue through the Thanksgiving holiday weekend, so if you have the itch to start spending now, you can head on over to the site and begin adding staples like shoes, zip ups, pants, and more to your cart.
And the best part about Adidas' Black Friday sale? You don't even have to wait for the top deals to go into effect. Adidas is marking prices down up to 50 percent off this year, and there are plenty of deals to go around (58 pages of deals, to be exact). Here's a sneak peak at the sales you can expect this year.