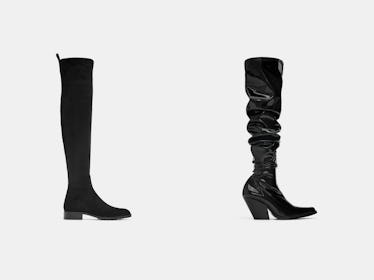 10 Pairs Of Affordable Over-The-Knee Boots You'll Wear Way Past Halloween
Zara
When it comes to the ideal fall footwear in terms of both form and function, black over-the-knee-boots reign supreme. The nature of their silhouette (thigh-high) means they're automatically going to make any outfit you wear them with twice as warm, and it also means they'll bring the drama no matter what you wear them with. In short, you need some of your own—don't let the prospect of styling them deter you from investing in a stellar pair.
The modern day black OTK boot trend (they first became de rigueur for women in the '60s) can, in my opinion, be traced back to a singular style: Sam Edelman's Paloma boot. In around 2010, it absolutely took over fall footwear trends and has been cool and hip and covetable ever since. If you look online, you'll notice it's sold out everywhere. Clearly, the style has got staying power!
Since that boot became the Chanel baguette of shoes and spurred fast fashion retailers and high-brow designers alike to churn out their own iterations of the silhouette, OTK boots in all of their forms have become somewhat of a fall style staple. Wear a block-heeled pair with a flowy midi dress, a flat chunkier pair with a plaid mini skirt, or a stiletto pair with skinny jeans — you only need to look to the supermodel darlings of today to find ample inspiration on how to style them. But first, you need to actually own them — here are 10 pairs to shop.
Deconstruction Zone
This pair looks like their heels were chopped off, painted gold around the perimeters, and stuck back on for a gravity-defying effect. They're chic and boast an elevated design detail, but in a subtle way. A great option if a standard-heeled pair isn't what you're after.
Low Rider
I love OTK boots with a slightly chunkier heel — I feel like it renders them casual but still with a chic allure. Case in point: See above.
Ziggy Stardust
Need I even write anything about these boots?! They'll make you glitter from thigh-to-toe and boast a slightly Western silhouette. Hi, New Year's Eve!
The Standard
For those of us who can't afford Palomas, these are a pretty ace alternative.
Sky High
Another pair of chunky-heeled boots, except these are super high. If you've got the coordination and the balance, I say go for them — they're beyond sexy.
Get to the Point
The ultimate power shoe.
Gold Standard
These are also excellent standard flat OTK boots, except their heels boast little gold details. Why not go for a bit of extra hardware?
Jeepers, Creepers
Chunky creepers, but in over-the-knee form. These paired with a mini skirt and turtleneck would look so rad!
Vinyl Night
If you're shopping for post-10 p.m. shoes and can't do the above sparkly ones, at least opt for these patent stunners.
Laced Up
A decidedly different style of OTK boots, these feature a lace-up front and chunky treads. They're more casual than the others, but would look pretty bad*ss paired with a flowy floral dress.