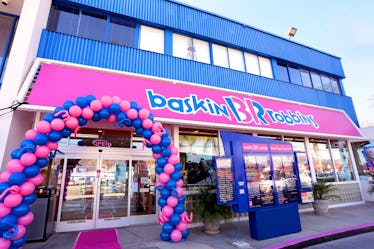 Baskin-Robbins Is Giving Away Free Cake On Cyber Monday For A Post-Holiday Treat
Rachel Murray/Getty Images Entertainment/Getty Images
When you think of Cyber Monday, you most likely think of avidly perusing the World Wide Web for a delightful selection of discounts, spanning from random articles clothing to various electronic devices, and, of course, a variety of home goods. Sometimes, though, Cyber Monday deals extend to the vast world of food, and personally, cheap food is all I want in life. Baskin-Robbins' Cyber Monday 2018 deals, for example, offers free cake samples and discounts on cake orders. I don't know about you, but that sounds pretty ideal to me. Let the discounts begin.
Like most sensible, money-conscious people, I really, really love free things. Thankfully, Baskin Robbins is coming in clutch this year by offering the people (aka you and me) what they want: free cake samples. Yep — to celebrate the ever-glorious Cyber Monday this year, Baskin-Robbins is offering customers free Red Velvet Roll cake samples on Monday, Nov. 26, between 3 p.m. and 7 p.m., according to a press release. If you've never gotten the chance to taste the ice cream chain's Red Velvet Roll Cake, it's made up of chocolatey red velvet cake, which is delicately wrapped around Creole Cream Cheese ice cream. It's then topped with white icing, red velvet cake crumbs, and chocolate swirls. OK I'm literally drooling. Go in and try a free sample — you definitely won't regret it.
In terms of actual cyber deals, on the other hand, Baskin Robbins is coming in clutch by offering all guests an online (and in-store) cake discount. That's right, you heard me — according to the press release, if you order a Baskin-Robbins cake on Monday, Nov. 26, you can take a whole $5 off any cake purchase that comes out to $20 or more. I know, it's a totally and utterly glorious, and if you have as big a sweet tooth as I do, this is definitely the perfect Cyber Monday discount for you.
There's nothing better than a solid snack deal, am I right? And once you've taken advantage of Baskin Robbins' free and discounted cake, make sure to take a look at Keds' 2018 Cyber Monday sale. They're stocked with all different kinds of sneakers for fall and winter, and if you love the comfort of a good old fashioned slip-on shoe, you'll definitely want to take advantage of this glorious sale, which lasts an entire seven days. Some of the shoes are fuzzy, others are lined with velvet, and there's even a leather pair. Yes, you heard that correctly, and IDK about you, but my puppies are already singing.
I'll be completely honest — there's no way on earth I could pass up a delectable deal on food, especially when it comes to cake. It blows my mind the store is not only offering free red velvet cake samples, but also a hefty discount on ice cream cake. So, eat to your heart's content this Cyber Monday, and enjoy the food. Free cake doesn't come around often, you know.