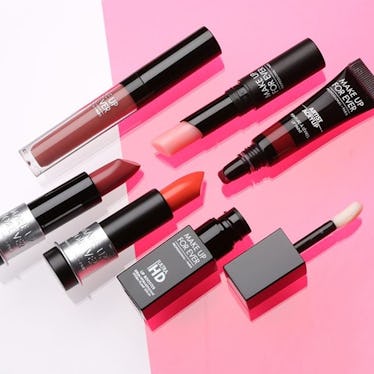 You Can Get 20% Off Your Entire Make Up For Ever Purchase On Black Friday & Cyber Monday
makeupforeverofficial on Instagram
I used to not believe in Black Friday. I thought it was a made-up holiday, a scam invented by retail giants, a ruse to get consumers to spend all our money. That was before I actually started looking for deals from my favorite brands. Now, I count the days in anticipation, I save up for it, and I put off shopping for months, just so that I can stock up on everything I need every Black Friday. Case in point: These Make Up For Ever Black Friday 2018 sales are the best opportunity for me to load up on all my favorite items, all at once, for cheap.
This Black Friday, you can save on all your favorite Make Up For Ever essentials online at makeupforever.com and in store. If you spend $100 (trust me, that won't be hard, because you're going to want everything), you'll receive 20 percent off your entire purchase. And it doesn't stop there! In case you sleep through Black Friday (turkey will do that to you), you can also enjoy the same 20 percent off of your $100 purchase on Cyber Monday, Nov. 26, 2018. And to make things even easier (especially on your wallet), Make Up For Ever will run the sale throughout the weekend. That means you have ample time to head over to their store or website to save some major cash from Nov. 22, to Nov. 27.
In case you need them to stay organized, here are some product suggestions to save your money on this weekend!
Ultra HD Liquid Foundation
This is one of my favorite foundations in my vanity. The coverage is buildable, it looks like skin (but better!), and it stays on all day long. It comes in 40 shades — so you're sure to find your perfect match — and this Ultra HD Liquid Foundation ($43, makeupforever.com) is suitable for normal, combination, and dry skin types.
Matte Velvet Skin Foundation
If you prefer full coverage (one that covers skin all the way, without looking cakey) that is oil-free and stays matte for a full 24 hours, this Matte Velvet Skin Foundation ($38, makeupforever.com) is it. It also comes in 40 shades. Score!
Ultra HD Lip Booster Hydra-Plump Serum
If you deal from chronically dry lips in the winter (honestly, who doesn't?), this Ultra HD Lip Booster Hydra-Plump Serum ($23, makeupforever.com) hydrates and soothes chapped lips and is the perfect first step for getting a smooth-looking lipstick finish.
Star Lit Diamond Powder
There's no better time to bring the sparkle than the holidays. This multipurpose Star Lit Diamond Powder ($26, makeupforever.com) can be used anywhere, from your eyes and lips to your body. It comes in nine shades, so you can create every look you could ever dream of.
Aqua XL Eye Pencil Waterproof Eyeliner
Every beauty junkie needs one really good eyeliner — one that goes on smooth, looks super pigmented, and stays on until you take it off. And the best part is the Aqua XL Eye Pencil Waterproof Eyeliner ($21, makeupforever.com) comes in tons of colors, so you can switch it up depending on your mood.