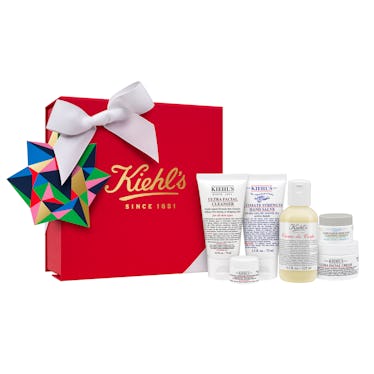 The Kiehl's Black Friday Sale Gives You The Chance To Score SO Many Free Samples
Courtesy of Kiehl's
In case you haven't noticed, Black Friday is a blessing and a curse. Sure, you get the opportunity to save a ton of money, but you're also spending a fortune because the deals are just too good. Plus, you only have one day (two, if you're lucky) to spend it all, so that means you're blowing your entire wad in mere hours. But luckily for you, Kiehl's Black Friday 2018 sale extends all the way into the first week of December, which means you have an extra week to balance your checkbook. Scroll down for the full list of Kiehl's best deals of the year.
Black Friday Deals
Firs things first, if you take a trip down to your local Kiehl's retail store on Nov. 23, you can snag the brand's Best of Kiehl's Set for $39, instead of its $66 value, which includes all the greats: the Ultimate Strength Hand Salve, Ultra Facial Cleanser, Ultra Facial Cream, Ultra Facial Overnight Hydrating Mask, Creme de Corps, and Rare Earth Deep Pore Cleansing Mask.
If you're a fan of the brand's lip treatments (who isn't?), you can shop the Limited Edition Butterstick Lip Treatment for $15, a regular $19.50 value. Additionally, at Kiehl's stores, when you spend $85 from Nov. 23 to Nov. 26, you'll receive a complimentary Kiehl's x Andrew Bannecker Holiday Tote.
If you prefer to shop on the Kiehl's website, you'll get the same opportunity to purchase the Best of Kiehl's set, as well as your choice of four deluxe samples and free ground shipping with an order of $25 or more from Nov. 23 to Nov. 25. You'll also be treated to a limited edition makeup bag if you spend $45 or more in the same date range. And of course, the Black Friday section of the Kiehl's website will have even more information come the big day!
Cyber Monday Deals
Kiehl's isn't shying away from the Cyber Monday fun, either! On Monday, Nov. 26, you can visit the Kiehl's website to claim up to five deluxe product samples, a full-size Ultra Facial Cleanser, and a cute clear travel bag to put it all in when you spend over $60.
Aaaaand if you hit the $75 mark, you'll also receive the same complimentary Kiehl's x Andrew Bannecker Holiday Tote I mentioned earlier. Of course, you'll still wanna peep the Cyber Monday section of Kiehl's website once Cyber Monday arrives to see what other savings are revealed.
The Kiehl's Week Of Merry Deals
You thought Kiehl's was done? Well, you thought wrong. Starting on Nov. 27 and going through Dec. 3, Kiehl's is offering even more sweet deals that will be revealed throughout their Week of Merry that are sure to make you go broke, if you didn't already blow all your cash during Black Friday and Cyber Monday.
Needless to say, if I were you, I'd start saving up now, because in case you didn't count them, that's 10 whole days of sales. Godspeed, beauty lovers.