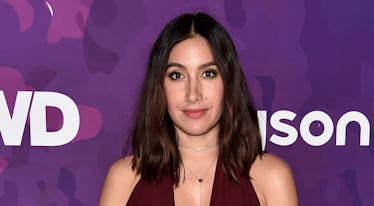 Hairstylist Jen Atkin Says This One Hairstyle Is Going To Dominate Everyone's Winter Looks — EXCLUSIVE
Alberto E. Rodriguez/Getty Images Entertainment/Getty Images
With effortless, beachy waves taking over my Instagram feed for the entirety of the summer, and sleek, shiny, glass hair spotted on every celeb this fall, it's safe to say I'm already on the hunt for what will be next season's most popular hair trends. Rather than wait and see what look everyone is rocking, though, I decided to turn to celeb hairstylist Jen Atkin, and have her predict the winter 2018 hairstyles she thinks are going to be huge. Lucky for me, Atkin is dishing out tons of hair knowledge on her current Mane U x Dyson tour, and she gave me the scoop on all the hair trends we can expect to see popping up over the next few months.
Considering her celebrity clientele include the Kardashians, Jenners, and Hadid sisters, it's safe to say Atkin knows a thing or two about a good look — and since she mastered summer's cool-girl waves and fall's stick-straight lobs on them, I have a feeling it won't be long until these women start rocking her next trend predictions as well. So, what's Atkin loving now? The hairstylist says winter 2018 is the season of the updo.
"I feel like for winter, we're wearing coats and turtlenecks, and I really like getting the hair off the face," she says. "I also feel like there's no point in trying to really battle frizz in winter, so I'm personally obsessed with a good, full updo." If the word "updo" has you immediately picturing complicated, thousand-bobby-pin styles, don't freak out — Atkin isn't predicting the rise of prom and bridal hairstyles as the next big thing in everyday glam. Instead, she's all about simple updos that make a statement, number one on her list being a high ponytail.
Take a recent pony Atkin styled on Kendall Jenner as the perfect example: it's long and luscious, but super slick up front:
"I love a snatched pony. I just think it makes everyone look so chic and pulled-back," raves Atkin. "Snatched to the gods, and you get a face-lift." In her masterclass, Atkin gives advice on how to really master the sleek pony on an everyday basis. While she adds in a few extensions to show attendees the proper technique, she insists that the real key is to focus on smoothing out the hair, as well as positioning the pony at the right angle.
When it comes to gathering the hair up, Atkin says placement should always be a happy medium: not too saggy, but also not smack on top of the head a la I Dream Of Genie. For smoothing hair out, she swears by a barber's brush, and utilizes one for both updos she creates during the class. The Burmax Scalpmaster Barber Men Grooming Styling Hair Brush ($7, amazon.com) has similar boar bristles to the brush she used. I also noticed that Atkin opted for French hair pins over bobby pins the majority of the time, so I'll definitely be stocking up on my own pack of Diane French Hair Pins ($13, amazon.com) ASAP.
And BTW, if you were curious as to how to amp up a pony with extensions, Atkin recently re-grammed a super helpful how-to:
If, like me, a tight pony gives you major flashbacks to your days of high school cheerleading, Atkin says there's another updo making it's mark this fall: "I love a high, messy top knot," she dishes. Sorry, Meghan Markle Messy Bun lovers, but this season, our buns are getting a lift.
Hi, yes, this is a look I'm so here for, as seen on Bella Hadid:
If you really want to be in on the trend, Atkin says one of her most-asked-about looks is an updo with a center part, like the one she created for Hadid, above. While Atkin says curly, messy buns should be wavy and fun, she's still strict about having a super-slicked front, and says that a blush brush or toothbrush spritzed with hairspray is the perfect tool for smoothing out strays when finishing off a look. She even admitted to smuggling her favorite hairspray, the Balmain Session Spray ($40, net-a-porter.com), when she travels back and forth from Paris for work. If you aren't super confident in the shape or fullness of your hairline, Atkin has yet another trick: she often fills in clients' hairlines using a palette of Anastasia Beverly Hills Eye Shadow Singles ($12 each, anastasiabeverlyhills.com) in matte shades, to help fake the appearance of a thicker, more even overall look.
FYI, Atkin created both a sleek pony and a curly updo at her NYC masterclass for hair professionals. Swipe to see them!
When I ask Atkin whose on her current hair inspo mood board, it's easy to see why she's into that second, more messy updo. "I make a collage, usually right before Cannes Film Festival, or New York Fashion Week, or Paris Fashion Week. My collage right now is psycho. Like, last year it was all 1990s supermodels, and now it's Lizzie McGuire, old Mandy Moore pictures, Mary-Kate and Ashley Olsen, but when they were like, tweens, and then Pam Anderson from Baywatch. And Anna Nicole Smith!" She also listed some of her favorite Instagram accounts to get inspiration from, including @2000s.babe, @voguexiconic, and of course, @maneaddicts.
Okay, after stalking these accounts, I can really see why Jen is feeling a curly updo. I need this Mandy Moore moment on my head right this second:
Perhaps Atkin looked to the current-day Olsen twins for inspo on effortless, cool-girl waves, but I love that she's channeling them in tween form for her winter 2018 lewks:
I won't even get started about how thrilled I am that Lizzie McGuire's hair is finally getting the recognition it deserves as truly iconic, so I'll wrap things up here. Personally, I'm thrilled about winter 2018 being the unofficial season of updos, and I'll definitely be making the most of this weird transitional time between fall and winter by perfecting my ponytail game, so that it's strong enough to make Atkin proud come coat season.