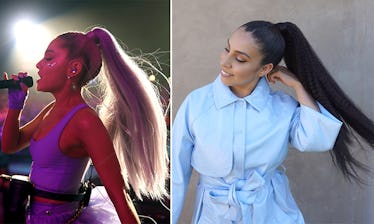 I Wore Ariana Grande's Ponytails For A Week & My Hair Flip Is Next Level
Christopher Polk/Getty Images Entertainment/Getty Images, Stephanie Montes
You've been there before: You're scrolling through your Instagram feed when you see your favorite celeb post about their favorite new product — a face serum, vitamins that will make your skin brighter, or a specialty food service. You can't help but want to be like the stars, but are the products worth it? In Elite Daily's new series, I Tried, we put it all to the test. We're trying those products as well as celebrities' health and wellness tips, recipes, and life hacks. We'll do the leg work and tell you what living like your fave star is really like.
When it comes to their own personal style, everyone has that one thing they like and wear every day — for me, it's the cat eye. Although they are somewhat controversial, Ariana Grande's ponytails are her thing, and she's not ditching them any time soon. Even I wish she would abandon her signature look once in a while! But before I pass judgement on the singer, I decided to walk a mile in her ponytail. For a new perspective on an old hairstyle, I wore Ariana Grande's most popular ponytails for an entire week. Here's exactly how it went.
To prepare for my ponytail transformation, I visited The Hair Shop in Hollywood, California, and tried on a bunch of ponytail extensions. The space is a pristine lightbox of a store, with hundreds of hairpieces and wigs lining the walls in every color under the sun. I visited because I knew it'd have exactly what I needed to pull off this transformation.
I already have pretty long hair, but when I pull it up into a super high ponytail, I lose so much of that length. I decided the Wrap Ponytail 22" ($205; The Hair Shop) would take my look to the next level. It's not quite as long as Ariana Grande's (I find out hers is custom-made), but 22 inches is pretty damn long.
The wrap ponytail is also new to me. I've tried copying her ponytail once before with clip-in extensions and it was impossible to get a tight, sleek, bump-free look with the added bulk on my roots. With the ponytail wrap, all you do is pull your hair into a ponytail, secure with an elastic, wrap the hairpiece around your pony, and secure with the velcro band. Much easier!
Day 1
The first time I tried working with the hairpiece, I fumbled for about an hour with it. Despite having a built-in comb clip, it kept falling out. After trying everything I could think of (I tried clipping it under my ponytail, on top of it, everything) I finally found the secret: Instead of tucking it into the base of my pony, I tucked it under the elastic. This held it in place all day, made it feel secure, and helped it lay flat.
Then, because the hairpiece hadn't been washed yet, the texture didn't match mine — it was still shiny, straight, and very wig looking. So, to blend my hair with the fake hair (without having to jump back in the shower), I figured a crimper would be my saving grace, and it was. So, I pulled up a picture of Grande at Coachella and copied her look.
From the second I tied my hair into my ponytail, I knew wearing it all day would be a challenge. In order to nail the look, I had to pull my hair up so tight that I could see a very visible an instant face lift happening. I don't know if it was the super tight ponytail, or the heavy hairpiece, but about an hour into wearing my new look, I felt a headache coming on.
Day 2
While researching Ariana Grande's half-up ponytail, the first thing I noticed was how far back the part went. When I create a similar style, I gather hair from above both of my ears and part upward toward the crown of my head. In Grande's case, she parts her hair about two inches below her ear at her neck. I'm not sure why she does this, but in the interest of recreating the look, I did it to.
Because of the abnormal parting, I felt like I had way more hair coming out of the ponytail than from the bottom section. I've racked my brain for reasons she might prefer such a far-back part, but I still don't understand. Ariana's ponytail simply defies gravity.
Day 3
If I had to pick my favorite pony look, it would difficult to choose between this style and my crimped ponytail. From the second I saw Grande's music video for "No Tears Left To Cry," I couldn't wait to recreate her look. Although my braid isn't nearly as long as hers (again, she pays big bucks to have hers custom-made in crazy-long lengths), mine definitely feels much more wearable.
Between the single braid on top and the extra-tight ponytail, I feel like a headache is a given, so I pop a couple of Advils as a preventative. It works!
Day 4
It's not often that Grande sports anything other than a high ponytail, but she has rocked this low pony with a deep side-part lately. She finishes the look with a wavy texture throughout her ends and a single piece of hair poking out from above each ear.
Because the tail is much lower, the extensions look much longer, which makes for a dramatic look. For a super low-key hairstyle, it's incredible how much of a difference this wrap ponytail makes. However, proceed with caution — when I got in my car that morning, I sat on my extensions and almost ripped the piece off. Dangerous woman, indeed.
Day 5
If the other two ~lewks~ were tied for first and second place, this ponytail comes at a very close third. The compliments rolled in all day long about my hair, and you know what, I was actually pretty impressed with my hairstyling skills, too.
I liked it so much, I wore it the next day, too. Before I went to bed this night, I took off the ponytail extensions and wrapped a silk scarf around my head. In the morning, I had flyways and the braids had gotten a bit fuzzy, but I wore it anyway. A little bit of gel and a toothbrush later, there wasn't a single flyaway in sight.
By day seven, I ran out of ponytail inspiration, so I opted for a straight-back style with a straight ends (basically the above look without the braids). I kept Advil in my purse, just in case my headache came back, but I didn't need it after all! Maybe I built up my tolerance, maybe I lost all feeling in my scalp, but I realized one thing: Ariana Grande must have a super high pain tolerance to have committed to a life of ponytails.