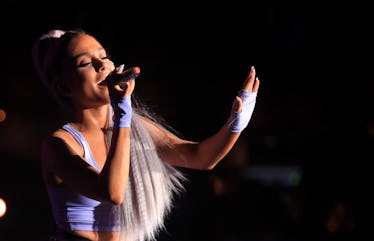 Ariana Grande's Latest Hairstyle Is Unicorn, '90s, & Crimped Magic, So Prepare Yourself
Christopher Polk/Getty Images Entertainment/Getty Images
The annual struggle with Coachella is whether to go weekend one or weekend two. If you went to weekend one, you were among the first to experience #Beychella in all its glory, but going weekend two meant you reveled in the joy of being suprised with a secret Ariana Grande appearance. The 24-year-old singer performed her new single, "No Tears Left To Cry," but Ariana Grande's Coachella hair is what really deserves a standing ovation.
Jumping on stage with Kygo, Ariana Grande wore a lavender crop top with a matching satin tutu-style skirt and gray suede thigh high boots. She accessorized with a black quilted fanny pack and lavender fingerless gloves. But my favorite part of the entire look was worn from the neck up. She swapped her usual highlighter for a cluster of crystals on her cheekbones (I saw that a lot at Coachella this year) and updated her go-to hairstyle with a pop of pastel color and tons of texture.
Her signature ponytail showcased a single braid down the center front, a section of hair wrapped around the base (the go-to trick for hiding a hair tie), and a waist-length ombre dye job that faded from a light lavender to silver as it got down to the ends of her hair. While her pony was sleek and shiny up top, her tail was crimped with rows and rows of zig-zag shaped waves, pretty enough to make even the most majestic unicorn envious.
Now, I'm not saying Ariana Grande stole my look (in fact, I'm pretty positive she didn't), but I'm also not saying she didn't (because, I guess it could happen?), but a few weeks ago, I too got reacquainted with my favorite childhood hot tool. I created a couple of looks inspired by Lizzie McGuire and fell back in love with the crimper. The looks included crimped bangs, sections of zig-zag patterns interspersed throughout, and an entire head of textured hair. I was so obsessed with the look, I put off washing my hair for a couple days.
Although I became obsessed with my new look, I figured I'd be the only one to rock crimped hair out in public these days. Because I usually just wear whatever I want in fashion and beauty (rather than follow trends too closely), I didn't expect it would become such a trend, especially one that hits the stage of one of the biggest music festivals of the season. In some kind of trickle-up effect, Grande busted out her own crimper only 10 days after me. Coincidence?
OK, so before I go tooting my horn too loudly, crimped hair is back — like really back! — and not just inside my own beauty room. With that, I come to grips with the fact that Grande has probably never seen my hair. However, I can pat myself on the back for sniffing out the trend before it totally blew up. Either way, here are a few of the crimped-hair looks circulating on Instagram (one's that Grande would be more likely to catch!).
Here's proof you don't need waist-length extensions, or pastel highlights to rock the criped ponytail.
Dare I say crimped hair is the new beach wave?
Even short-haired girls can get in on the fun.
Between the braids and crimped sections, I can't think of a more Coachella-worthy hairstyle.
Raise your hand if you can see yourself wearing crimped hair this summer? Take it from Ariana Grande (and me too, of course): crimped hair has made a full-blown comeback — and you need a crimper ASAP.