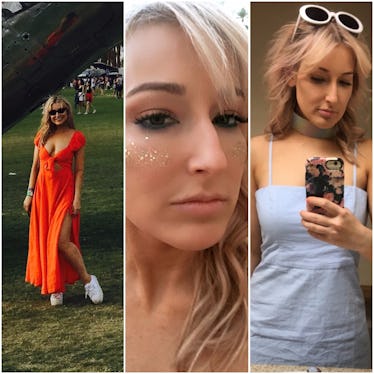 I Wore 3 Polar Opposite Outfits To Coachella & This $8 Accessory Won The Whole Festival
Alana Peden
I'm desperately clinging to my 20s and lucky enough to reside in NYC, so naturally, I've dabbled in music festivals. Governor's Ball and Panorama have become annual traditions, but there's one event in particular that has eluded me: Coachella Valley Music and Arts Festival in Indio, California, otherwise known as the peak scene for 2018 festival fashion trends. So when I finally got the chance to attend Coachella (and check off the big kahuna from my list), the word "outfits" flashed into my membrane before I even responded yes.
You see, as a burgeoning fashion editor, I love to marinade in outfit inspiration all day, every day. In fact, I dressed six real-women models in the trendiest festival garb imaginable for a photo shoot not even two weeks ago. Between the matching sets and the sheer skirts, I had the time of my life styling fabulous women for an imaginary festival in Brooklyn, New York. But when it comes to dressing my goofy self — in three outfits only — for the festival of all festivals in Indio? Yikes. The pressure cooker clicked on and I could feel the heat radiating 2,800 miles away from the desert.
Despite what my vocation would tell you, I had not one inkling what my signature festival "style" involved — not even one hunch. So I did what any self-respecting millennial would do: I ordered three completely different outfits from my favorite websites, hopped on a plane, and hoped for the best (dressed).
Day One: C'mon Barbie, Let's Go Party
I was so thrilled to be in sunny, beautiful Palm Springs and out of the relentlessly dank city of New York, that for the first day, I opted to embody Malibu Barbie. I have no qualms about this decision, or about openly admitting it on the interwebs for all posterity to see.
Leaning all the way into my plastic aesthetic, I decided to adorn my face in glittery freckles from the Sephora Collection Shine Beautifully Metallic Temporary Tattoos ($8; Sephora) set. If you're going to channel Barbie, you might as well sport freckles made of gold.
I was lucky enough to have the dazzling Helen K. Phillips, national artist for Sephora Collection, adhere the tats to my cheekbones with precision. However, the whole shebang took less than a minute and required nothing more than a little water, so you can definitely do this at home, kids.
As soon as the tiny metallic glints were in place, I felt like the cutest version of a festival-goer I could possibly be. Compliments were thrust in my direction with such gusto, I decided that "glitter freckle kween" would be my aesthetic for the entire trip. At one point, my Latin cutie/plus-one said that he forgot I don't actually have freckles with such forlorn, I just sighed and thanked Sephora Collection for inventing immaculate knock-offs.
To continue the vibe, I slipped into Pretty Little Thing's Nude Espradrille Feather Wedges ($38; Pretty Little Thing), since no Malibu Barbie is complete without furry (animal-friendly) pool slides. And that's not even all.
Because I'm a heathen who can't be tamed, I had an outfit change (what did you expect?) midway through the day, and I shimmied into a matching tube top and pants set for the #HotelRevolve party.
Between the Benefit brow booth and Quay sunglasses stand, the #HotelRevolve scene was littered with influencers that actually influence people, plus myself. Even so, I felt completely at home with the style coterie in this fully committed getup; and I consider that a smashing success.
Day Two: Tough As Glitter Freckles Can Be
Whoa there, Nelly. The second day of the festival was #Beychella, and in honor of all that is holy, your highness Queen Beyoncé Knowles-Carter, I decided to go hard in the opposite direction of Malibu Barbie. I desired to convey both edge and glamour, amalgamated between a serious dose of Sporty Spice.
Glamsquad, the on-demand app that offers blowouts, braids, and makeup services in your home/hotel at reasonable prices, dropped by my hotel to bring my vision to life. Since I was so devoted to my glitter freckles, we played up my shine factor (I like to be so blinding that you look at me and just see yourself) by topping my freckles off with Lemonhead LA Glitter ($22; Get Lemonhead) and adding a vivid blue undersmoke to my bottom lash lines.
My hair was woven into a French braid on one side, with wild curls on the other, evoking the appearance of an undercut. Needless to say, festival-goers took one look at me and said, "I don't wanna rumble with that one."
The sheer amount of product on my face was so beyond my comfort level, I felt sheepish while walking around the hotel. But as soon as we arrived at Coachella, I felt amazing and fierce, not so different from how I imagine Beyoncé feels every day. In the span of an hour, this quickly became my favorite makeup look I've rocked in a long, long time. Sometimes (and especially at music festivals), more really is more.
Just as soon as you find blazing confidence in one aspect of your appearance, another one will let you down. Literally. My By The Way Cherrie Peplum Top ($44; Revolve) and Deborah High Slit Track Pants ($64; Revolve) both sat just a tad too big for my body, and I spent Post Malone's set pulling them up every five seconds. Even then, this departure from my typically basic style left me feeling spectacular.
Day Three: Home, Home On The Range
By day three, each and every brave and incredibly blessed soul at Coachella becomes a bonafide expert. I had learned not to attempt the Uber line under any circumstances, how to nap on the lawn and on picnic tables (hit me up for deets), and how to fully embrace festival euphoria. I felt a free-spirited nature emerge within me, and concerns about my ~lewk~ melted away. I donned my favorite Free People Getaway Midi Dress ($98: Free People), and let my hair down, literally and figuratively.
One of my prized pearls of wisdom: Visit the Sephora Coachella tent before 6:15 p.m. That place is an air-conditioned, Wi-Fi-enabled, palatial selfie wonderland. Among the highlights, a life-sized blowdryer and lipstick ripe for posing, a glitter sink packed with travel-sized freebies, and complimentary hairstyling services from cool-girl brands like IGK, Bumble and bumble, and Hush. Pretty much every person at Coachella flaunted these hair accents, from Bumble and bumble's galactic light-up braids to Hush's vivid, temporary color.
Braless, but not flawless, I beelined straight for the Sephora Collection makeup counter for a quick touch-up. They have everything from the Holographic Face & Cheek Palette ($28; Sephora) to the Cream Lip Stain Liquid Lipstick ($14; Sephora) splayed out with a million individual spoolies and applicators so no one spreads the Coachella cooties. Golden Party, a shimmery, extra AF golden color of the lip stain, matched the poppy hue of my dress and completed my Western nymph vibe to perfection.
Out of all of my Coachella looks, the flowy dress, slanted sunnies, and Superga sneakers were the most me. I'd wear this look nearly anywhere you can go sans bra, but it felt fitting to wear it for the final day, with my glitter freckles still shining.
Under the beating California sun, my New York-perfectionist neuroses faded away, and I succumbed to what I had known somewhere all along: I will never be the best dressed at Coachella. But no one, including myself, really cares.