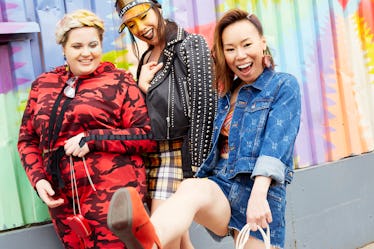 6 Women Rocked 2018's Hottest Festival Fashion & The Inspo Is Real
After a seemingly endless winter, festival season is finally upon us. Essentially the adult equivalent of Disneyland, music festivals are a fashion utopia in which otherwise tame adults buck their work wardrobes and bask in the glory of more-is-more aesthetics. Whether you're actually going to Coachella or just hitting up live music in your city, Elite Daily's music festival outfit ideas for 2018 will make your mission to be extra easier than taking a nap on the lawn.
This year, the height of outdoor fashion boils down to surprisingly comfy trends: sheer skirts and dresses over briefs (so you can skip pants entirely), robe-esque dusters, and matching sets in notice-me prints that take the guesswork out of sporting separates. On the accessories front, fanny packs and bite-sized backpacks allow you to Instagram the whole experience with both hands. Throw in beauty looks that include space buns, glitter, and vivid matte lipstick, and it could be 1996 all over again — and I'm willing to wager no one is mad about it. On second thought, a phantasmagoria of Zenon meets Spice World is exactly the kind of empowered woman mash-up the world needs in 2018.
With the help of an all-female production crew, six women volunteered to show you how to slay during festival season in the affordable brands you already love. Soak up the inspo before grabbing your #fan fam, then hit the fairgrounds in this year's most fun festival trends. Just don't @ me if you get snapped by the papz.
Pretty Little Thing Black Lace Insert Beach Kimono, $45, prettylittlething.com | Dolce Vita Cali Dreaming Knotted One Piece in Cheeky, $125, dolcevita.com | Gucci GG Marmont Matelasse Leather Belt Bag, $1,100, gucci.com | Sojourner Bags Silver Fanny Pack, $17, sojournerbags.com | Zenni Optical Premium Aviator Sunglasses in Pink, $33, zennioptical.com
On Kim, left: Capsule Women Are Stronger T-Shirt, $27, simplybe.com | Eloquii Twist Front Pencil Skirt in Engine Red, $60, eloquii.com | Nissa Jewelry Ellipse Hand Piece in Gold, $158, nissajewelry.com | Rainbow Side Heart Mirrored Sunglasses in Rose, $6, rainbowshops.com | Jennifer Loiselle Sunset Earrings, $37, bando.com | Rouge Mid Heel Almond Toe Booties in Black, $20, rainbowshops.com
On Amber, middle: NBD Romeo Gown, $258, revolve.com | Nissa Jewelry Band Together Choker in Black and Gold, $35, nissajewelry.com | Public Desire Rocky Studded Platform Boots in Black, $35, publicdesire.com | Zenni Optical Premium Round Sunglasses in Red, $36, zennioptical.com | OMG Accessories Love Mini Backpack, $45, omgaccessories.com
On Sherine, right: GRLFRND Lily Bustier, $168, revolve.com | Boohoo Zendaya Edit Sports Stripe Co-ord Set, $30, boohoo.com | Eight Black Varsity Bomber, $55, prettylittlething.com | Steve Madden Memory Sneakers in Multi, $130, stevemadden.com | Baublebar Sonatina Tassel Earrings in Cobalt Blue, $36, baublebar.com | Boohoo Emma Fringed Denim Bumbag, $11, boohoo.com | Lulus Memory Lane Gold and Black Sunglasses, $19, lulus.com
Vans Arched Body Suit in Evening Sand, $30, vans.com | Volcom Stone Scraper Shorts in Light Pink, $50, volcom.com | Lulus Bernice Pink Hoop Earrings, $13, lulus.com | Pretty Little Thing Rainbow Glitter Choker, $8, prettylittlething.com | Gigi Hadid for Vogue Eyewear VO5211S, $140, glassesusa.com | Under One Sky Iridescent Unicorn Horn Backpack, $25, tjmaxx.com
On Kim, left: Zenni Optical Premium Butterfly Sunglasses, $33, zennioptical.com
On Amber, middle: NBD Anastasia Dress, $198, revolve.com | Modern Vice Bolt Bag in Silver, $249, modernvice.com | Ban.do Cool Sunglasses, $15, bando.com; APM Monaco Necklace
On Sherine, right: Pretty Little Thing Black Tassel Trim Crop Top, $25, prettylittlething.com | Caffeine Tenacity Medium Wash Distressed Denim Shorts, $44, lulus.com | Billabong Sea The Sun Light Beige Print Kimono, $65, lulus.com | Oliver Thomas 24 + 7 Cellphone Crossbody in Green Camo, $49, theoliverthomas.com; 21HM Mariah Necklace, $65, 21hmboutique.com | Nissa Jewelry Talisman Bracelet, $58, nissajewelry.com | Tom Ford Keith 55mm Metal Aviator Sunglasses, $395, nordstrom.com
Universal Standard Geneva Fog Dress in in Marine, $80, universalstandard.com | Swimsuits For All Tiki Underwire Swimsuit, $54, swimsuitsforall.com | Nissa Jewelry Scarf Hoop Earrings, $78, nissajewelry.com
On Maureen, left: H&M Patterned Denim Jacket & Shorts, $35, hm.com | Urban Outfitters Wind Song Halter Cropped Top, $49, urbanoutfitters.com | Bamboo Free Spirit Heels in Rust, $34, shopdressup.com | Perverse Saggitarius Yellow And Gold Cat-Eye Sunglasses, $50, lulus.com | Baublebar Fabia Linked Statement Resin Necklace in Ivory, $58, baublebar.com | Elaine Turner Katie Earrings In Multi-Color, $48, elaineturner.com
On Theresa, middle: Simply Be Camo Printed Cropped Hoodie, $46, simplybe.com | Simply Be Camo Print Joggers, $46, simplybe.com | New Balance 574 Glitter Punk Sneakers in Silver, $90, newbalance.com | Lulus My Melody Clear Mirrored Cat-Eye Sunglasses, $16, lulus.com | Rachel Icon Crossbody Bag in Red, $20, urbanoutfitters.com | Jennifer Loiselle Happy Hour Earrings, $26, bando.com
On Brittany, right: Pretty Little Thing Yellow Acrylic Visor, $10, prettylittlething.com | Rebecca Minkoff Adelia Jacket, $798, rebeccaminkoff.com; Volcom Cher Ray Bodysuit, $40, volcom.com | Pretty Little Thing Yellow Check Print Mini Skirt, $12, prettylittlething.com | DC Shoes Trase V SE Sneakers in Red, $60, dcshoes.com | Alex of Arabia Matte Sateen Leather Backpack, $120, alexofarabiadesign.com
Pretty Little Thing Yellow Acrylic Visor, $10, prettylittlething.com | Rebecca Minkoff Adelia Jacket, $798, rebeccaminkoff.com | Volcom Cher Ray Bodysuit, $40, volcom.com | Pretty Little Thing Yellow Check Print Mini Skirt, $12, prettylittlething.com
Hair: Nikki Avanzino, using Hair Couture and Oribe
Hair Assistant: Rebekah Sattler
Makeup: Kim Carpluk, using Sephora Collection
Styling: Senior Fashion & Beauty Editor: Alana Peden; Contributing Fashion Market Editor & Stylist: Alison Turka
Photographer: Marley Rizzuti
Photographer's Assistant: Allison Brooks
Director of Features and Brand Initiatives: Margaret Wheeler Johnson
Creative Director: Adrian Moreno
Art Director: Becky Brown
Bookings Manager: Guillermo Perez
Photo Editor: Clare Thigpen