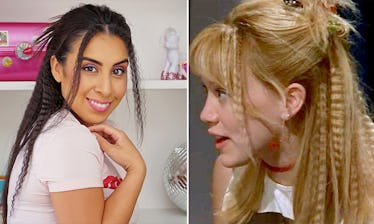 I Copied Lizzie McGuire's Crimped Hairstyles & My Childhood Self Is Crying Right Now
Stephanie Montes/Lizzie McGuire
It was only a matter of time before crimped hair made a comeback — everything does after all. Stretch combs are in the middle of a resurgence and you can even find claw clips and thick headbands in every accessory section right now. I'm actually shocked it took so long for my favorite zig-zag hair pattern of the '90s to become trendy again.
I can remember the first time I ever crimped my hair. I was 13 or so, in summer camp, and preparing to do a group hula dance for our luau night. We all decided to wear matching grass skirts, contrasting floral-printed tops, and crimped hair (this was way before any of us knew the secret to creating back-from-the-beach texture with a curling iron). After taking the zig-zag shaped plates to my hair, I had volume for days — literally... days —because I held off on washing it for as long as I could. A few years later, crimped hair was out and pin-straight hair was in. One day, in an attempt to declutter my vanity, I made the heartbreaking mistake of throwing away my crimper.
Truthfully, I didn't miss it until about a month ago. After seeing crimped hairstyles on the fashion week runways, I wished I had my once-beloved crimper back to recreate a few looks. So, I decided to buy a new one, but a quick search proved that they're not as available as they once were.
Not even a week later, I recieved an email that Drybar, the salon that offers a menu of blowouts and hairstyling for busy beauty junkies, was about to launch a crimper. The Drybar Big Crimpin' Crimping Iron ($99, Sephora) landed in the mail a few days later. I cracked the box open, plugged it in, and stared at the crimper hoping a style idea would come to mind. Nothing did.
I turned to a quick Google search for inspiration and I started with none other than the Lizzie McGuire. I watched the show in my summer-camp days and although I had long brunette hair (opposite of Hilary Duff's character's), I always envied her ever-changing styles and unlimited hair accessories. She was totally my style muse when I was 13, but I had far less hair-styling tricks than I do these days. I pick two of Lizzie McGuire's crimped hairstyles and recreate my own 2018-appropriate versions.
My search for Lizzie Mcguire crimped hair spit out this image: a half-up hairstyle with the bottom section crimped and the top pulled into a bun with spiky ends:
First, I pulled my hair into a loose half-up ponytail and on my last pull through my hair tie, I left half of the pony folded in half. I took the top layer of the bottom section and crimped it. And just like that, I'm transformed back into my childhood.
Next, I distinctly remember a hairstyle where Lizzie incorporates crimped sections with straight hair and the occasional curly tendril. It takes some digging, but I finally found it:
To recreate the look, I plugged in my crimper and my curling iron, and parted my hair in the center. One small section at a time, I alternated between crimping a pattern and creating a curl. Again, the style is super easy to do, but I loved how amazingly extra it looks. My childhood self is crying right now.
Right now, I can't remember why I got rid of my old crimper, but this Drybar Big Crimpin' Crimping Iron ($99; Sephora) just earned a permanent spot in my hot-tools stash.