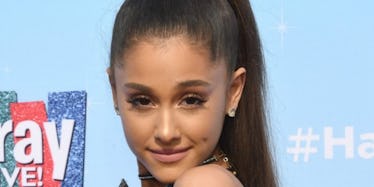 The Product Ariana Grande Uses For Her High Ponytail Is Actually Really Surprising
Getty Images/ Chris Delmas
Ariana Grande's name is basically synonymous with the high ponytail. She rocks this trend harder than anyone else, and it's become her signature hairstyle. The high ponytail is a super sleek 'do that Grande wears so effortlessly and it always looks amazing. If you're wondering how to get Ariana Grande's ponytail, it's actually surprisingly easy and affordable.
Grande's stylist, Chris Appleton, is known for creating this polished look. Other celebs who are under his spell include Jennifer Lopez, Kim Kardashian, and Katy Perry. Yes, THAT sleek look. The British stylist revealed one very surprising product he uses to create the trendy, slick ponytail. During a demonstration with E!'s Freestyle, Appleton said,
This is something I use a lot. It's called Gorilla Snot. It's a gel. Say I wanted to do a ponytail and I wanted to do something really slick, I'd just put that on the edges. It makes it like rock solid.
Gorilla Snot is a yellow, sticky, and gooey hair gel — it overall looks very unappealing. However, for $2, this is definitely a product you'll want to get your hands on. Appleton continued,
If you have braids and you want to lay your edges down or if you want to make sure that ponytail is super sleek use a tiny little drop of it.
Gorilla Snot, $2, Amazon 
Honestly, the affordable price tag makes me want to run out and get this product ASAP. Maybe I will be able to slay as hard as Ariana Grande in my sleek pony. Probs not, but a girl can dream.
There's actually a very surprising reason behind Grande's signature ponytail. In Jan. 2014, the singer explained on Instagram that she had to wear her hair up due to damage. Grande wrote,
I had to bleach my hair and dye it red every other week for the first 4 years of playing Cat…as one would assume, that completely destroyed my hair… My real hair is back to brown and I wear extensions, but I wear it in a pony tail because my actual hair is so broken that it looks absolutely ratchet and absurd when I let it down.
Whatever the reason behind Grande's ponytail, it's working for her. I love this look, and it's amazing that it's not at all expensive to achieve. Thanks for the tip and keep slaying, Ari.