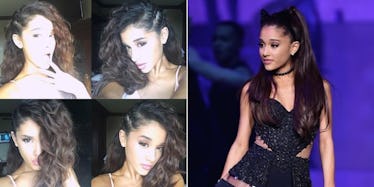 Ariana Grande Revealed What Her Natural Hair Is Like And It's Gorgeous
For as long as Ariana Grande swore by her super-high-and-tight, half-up pony, rumors blew around town regarding what it was the pop star hid in there.
Be it the Elder Wand, the stolen Declaration of Independence, Voldemort's face, rare fragments of architecture from the sunken city of Atlantis, an embarrassing tattoo of the UGG logo, Dane Cook, a case of lukewarm Red Bull, Nelly Furtado's next album or 1,000 bees, the mysterious content of the Grande-tail kept everyone wondering -- until now.
In the biggest letdown of American history, the "One Last Time" singer shook loose her locks to reveal absolutely nothing.
The 22-year-old posted a collage of four very normal, hidden-treasureless selfies to Instagram, flaunting her pretty, natural curls and two small braids on the side of her head.
Patches of skin visible between the braids confirm a thoroughly disappointing lack of scalp tattoos.
Grande also posted a video to Instagram of herself tearing through her home, trying to convince her dog, Ophelia, they are basically twins.
In January of 2014, the singer explained her famous ponytail on Instagram, insisting she was forced to wear her hair up due to damage and not because of a crippling secret only safe in the warm folds of her ombré.
She wrote,
I had to bleach my hair and dye it red every other week for the first 4 years of playing Cat…as one would assume, that completely destroyed my hair… My real hair is back to brown and I wear extensions, but I wear it in a pony tail because my actual hair is so broken that it looks absolutely ratchet and absurd when I let it down.
SURE. Call me paranoid, but with no photographic documentation of Grande's big hair switch, many of the theories above remain totally plausible.
Citations: Ariana Grande Shows Off Natural Curls, Jokes She Looks Like Her Dog on Instagram: Pics, Video (Us Weekly)