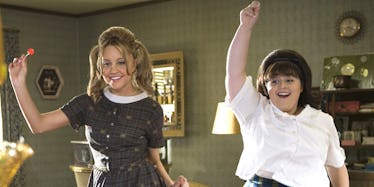 The First Photo Of Ariana Grande's 'Hairspray Live!' Character Is Here
New Line Media
YOU CAN'T STOP THE... trend of casting pop stars in Broadway roles!
But honestly, in the case of Ariana Grande as "Hairspray's" Penny Pingleton, why would you want to?
Yep, in case you hadn't heard, NBC's next live musical is none other than the classic film-turned-Broadway "Hairspray," and the role of Tracy's BFF will be played by the pop princess herself, Ariana Grande.
I know, I'm sad it's not Amanda Bynes, too. Oh well.
But the good news is, in this new photo of the "Hairspray Live!" cast in costume, Ariana and the rest of the crew look pretty amazing.
The #HairsprayLive cast is here to welcome you to the '60s! pic.twitter.com/NDh8AcsYSq — Hairspray Live! (@HairsprayLive) October 19, 2016
Arianna switched out her high ponytail for pigtails and is rocking that plaid jumper.
Ariana's not the only star to watch out for in this production. In the spirit of "The Corny Collins Show," let's do a r-r-r-ROLL CALL!
Jennifer Hudson and Kristin Chenoweth are also looking stunning as Motormouth Maybelle and Velma Von Tussle. Those are some truly impressive dresses.
The starring role of Tracy Turnblad will be played by newcomer Maddie Baillio. This is her first ever professional role, and she's already crushing it in the costume department. That blonde-streaked bouffant is truly iconic.
Broadway veteran Harvery Fierstein will be taking on the classically-played-in-drag role of Tracy's mother, Edna Turnblad, stepping into the shoes of John Travolta.
Playing Kristin Chenoweth's daughter, Amber Von Tussle, is Disney Channel's "Liv and Maddie" star Dove Cameron.
And of course, last but not least, let's check out the new Link Larkin.
No, it's not Zac Efron, sadly, but it is actor Garrett Clayton. Remember Tanner from "Teen Beach Movie"? (It's OK, you can admit you watched that movie.)
You gotta admit, Tanner's kind of perfect for Link.
"Hairspray Live!" airs on NBC on December 7. That's more than a month to watch and re-watch the movie, so get to it!
Citations: Ariana Grande In Character as 'Hairspray Live!'s Penny Pingleton is Perfect (TeenVogue)