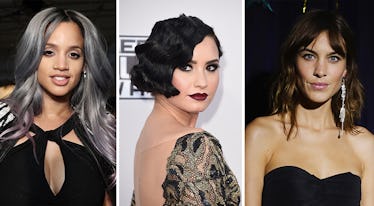 The Biggest 2018 Hair Trends Around The World Are Making Me Rethink My Strands For Fall
Astrid Stawiarz, Jason Merritt, Vittorio Zunino Celotto/Getty Images Entertainment/Getty Images
As the end of summer nears, I find myself hitting a serious hair slump. It's definitely too hot outside for me to dedicate time to curling or straightening my strands, but how many days in a row can a girl rock a ponytail? I'm no Ariana Grande! Fortunately, the Pinterest 2018 Global Beauty Report has arrived, and with it, tons of information on the top 2018 hair trends around the world. Let's get inspired, people!
In their annual Global Beauty Report, Pinterest rounds up info sourced via what people are searching for and pinning on their site and organizes it all by beauty category. When it comes to hair trends, they've pinpointed which countries are loving certain styles, colors, and cuts. They're all unique, they're all equally fab, and they've all got me reaching for a hairbrush and some bobby pins to try them out for myself.
Braided Beauties
In the United States, searches and pins for braids have risen an astounding 445 percent. That's a lot, right? Likely because there are so many different kinds of braids to choose from. In Brazil, Pinners can't get enough of box braids, which are up 97 percent, and in South Africa, there's been a 70 percent increase in interest for twisted braids.
Pixie Parties
In Germany, beauty-lovers are gravitating toward a much shorter style, with searches for pixie cuts up 266 percent. Pls don't tempt me, German Pinners — it is so hot here in NYC, and I am thisclose to chopping my locks off once and for all. When it comes to styling a cropped cut like a pixie, opt for a paste or wax-like formula for hold that isn't too stiff. The TIGI Bed Head HARD TO GET Texturizing Paste ($23, ulta.com) can do it all, whether your pixie features shorter spikes or slightly longer layers that need a little separation.
Wave Hello
Another hairstyle to see a major increase in pins in Spain is called "ondas al agua," or waves on the water. The style is similar to pin-up girl waves and finger waves. So far, it's seen increase in searches of 133 percent.
Celebs like Blake Lively are famous for rocking this bouncy, wavy look at red carpet events, as seen above. Demi Lovato also rocked a shorter version of the style using her long bangs at the 2015 AMAs:
For this style, I have to recommend The Beachwaver Co. Beachwaver S1 Curling Iron ($100, ulta.com) as the best tool for getting this look. The rotating barrel makes creating the same wave multiple times a breeze, so you can get the perfectly lined-up look of curls that mirror "waves on the water," like the trend implies.
Sun's Out, Buns Out
In France and the United Kingdom, they don't want none unless you got buns, hun! France has seen a 137 percent increase in search for messy buns, and as a lazy hair gal myself, I am definitely a fan of this easy style becoming more socially acceptable. In the UK, however, Pinners are more interested in the side bun, with searches up 164 percent.
A simple bun is still a statement, but I've recently broken my personal black hair tie addiction and started to use my updos as an opportunity for a little color. These Goody Ribbed Ponytail Holders ($4 for 40, target.com) are the perfect pop that feels fun without looking too childish.
Bang Bang
Are you still in that phase where bangs absolutely terrify you? Allow Argentinian Pinners to change your mind! Their searches for open bangs, or "flequillo abierto," have increased 150 percent. Open bangs have an opening that looks a bit like they're parted down the middle — very Alexa Chung, very chic.
Styles and cuts aren't all the survey covered though — it also made note of which colors certain countries preferred when it came to a dye job. In Japan, Ash or "グレージュ" was up 68 percent, while Mexico favored red with searches up 222 percent. Australia, on the other hand, went on the bubblier side, with searches for pink hues up 46 percent.
Ash is basically the smoky gray, cool-girl hair color of my dreams. You could go ash-brown and work in lighter blacks and grays over brunette hair, or go full-on smoke show like Dascha Polanco did back in 2014:
It's safe to say that after reviewing Pinterest's 2018 Global Beauty Report, I can no longer use the excuse that I don't know what to do with my hair. Everything that's been pinned as of late looks totally gorgeous, and all the trends are serving me some serious autumnal vibes, no? Especially the messy buns and ashy colors, which I'm certainly not mad about. Excuse me while I call my colorist/work on my braiding skills/stock up on fun hair ties ASAP!