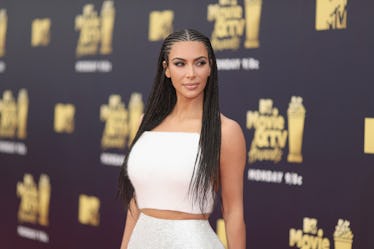 Kim K Finally Responded To All The Backlash About Her Braids At The MTV Movie & TV Awards
Christopher Polk/Getty Images Entertainment/Getty Images
If there's one thing this Keeping Up With The Kardashians reality star does best, it's starting a social media uproar. This time, the uproar was over Kim Kardashian's controversial hairstyle — fulani braids — she wore to the recent MTV Movie & TV Awards to accept an award for Best Reality Show for KUWTK. Given the social media stir, Kim Kardashian's response to backlash over her braids was to be expected. But her exact reason for wearing the style is, well, interesting.
On Monday, June 18, the mother of three made her way down the annual red carpet in a white tube top and a long, floor-length, shimmering silver skirt, complete with a side slit to show off her strappy black heels. The major thing people took issue with? Her hair, which was styled into fulani braids (this time without beads). Once Kardashian made her debut on the carpet, people were not happy at all, and naturally, many shared their grievances with Kardashian via Twitter.
But the 37-year-old apparently didn't see an issue with wearing the hairstyle, despite being slammed for wearing braids and accused of cultural appropriation in the past. Speaking to Bustle at her KKW Beauty and Fragrance pop-up shop at Westfield Century City in Los Angeles on June 20, Kardashian said that she didn't even know people were upset, adding that she wore the style for her oldest daughter, North West.
"I actually didn't see backlash. I actually did that look because North said she wanted braids and asked if I would do them with her," she explained. "So we braided her hair and then we braided my hair."
As mentioned before, this isn't the first time Kardashian has worn the hairstyle. She first debuted what she called "Bo Derek braids" on Instagram back in February 2013. However, she also shared with Bustle that she's fully aware of the reason for the initial backlash associated with her wearing this style, and she's maintained that she means no disrespect. "I obviously know they're called fulani braids and I know the origin of where they came from, and I'm totally respectful of that," she said. "I'm not tone deaf to where I don't get it. I do get it."
The reality star and beauty mogul also added that perhaps she should have explained her position rather than originally calling them "Bo Derek braids."
Fulani braids actually originate from the Fula Tribe in West Africa and the Sahel Region — "the largest nomadic pastoral community in the world," according to Africa.com. And part of the reason why so many black women get upset when she's wearing this look is because these styles are personal.
"It's important to remember that when black women call out articles like the one featured in Allure, or criticize white women like Kylie Jenner or Rita Ora for wearing black styles, it's not simply out of this need to deny access to something simply for the sake of it," writes HuffPost's Senior Culture Writer Zeba Blay in 2015.
She continued, "To you, white women, it's just a cool hairstyle. To us, it's something we've fought to be able to fully embrace. There are other ways to admire or celebrate black hair without coopting it."
I'm personally not convinced that the TV personality fully "gets it," but I will give her credit for taking the initiative to go to a class to learn how to style her biracial children's hair back in 2016. Even though she struggled with learning how to braid properly at first — as anyone would when they're learning something new — she still made the effort.
As for Kardashian herself, only time will tell if she'll decide to rock braids, or any other cultural hairstyle, on the red carpet again.