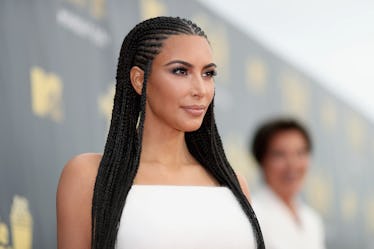 Kim Kardashian Wore Cornrows AGAIN & Twitter Is So Divided On Her Look
Christopher Polk/Getty Images Entertainment/Getty Images
Not one to shy away from controversy, Kim Kardashian West rekindled a hair debate that she's been at the center of before. The reality star hit the red carpet on June 16 and tweets about Kim Kardashian's braids at the MTV Movie & TV Awards are so divided. There are both fans and critics of Mrs. West's look, but the issue of cultural appropriation is at the forefront.
The backdrop for Kardashian West's hair debate is the 2018 MTV Movie & TV Awards which air at 9 p.m. ET on June 18. The awards show will also be available to stream on MTV's website at that same time. The event was already filmed, though, and based on the sheer fact that Kardashian West was in attendance, people are talking about her appearance. The mogul was there on behalf of her family's show, Keeping Up With The Kardashians, which is nominated for Best Reality Series/Franchise. If it were up to me they'd win the award for sure (though Real Housewives is a close contender), but I digress. Since the awards ceremony has yet to air, Kardashian West's hair is the talk of the town, and the talk is heavy.
Kardashian West walked the red carpet with her very own momager, Kris Jenner, and the pair were a vision in matching white ensembles. Jenner wore a double-breasted, sculptural white blazer, slim black trousers, and over-the-knee black boots. Kardashian West wore a fuzzy sweater crop top ('90s fashion trend alert!) and a floor-length crystal skirt, both Atelier Versace. The mother of three recently received the first-ever CFDA Influencer Award for her statement-making fashion choices, and while this ensemble is just that, it was her hair that got people talking.
Chris Appleton is Kardashian West's hairstylist and he put the reality star's hair into what's known as Fulani braids. Fulani braids originated in West Africa among the Fula people, a primarily Muslim community, but have been popularized in and by other cultures. The fact that these braids have been worn by so many other cultures, often without due credit to Fulani people, is what's ruffling some feathers.
Kardashian West wore the hairstyle once before and called herself "Bo West" in reference to actress Bo Derek, who wore Fulani braids in the 1979 movie 10. The star received a lot of flack for wearing the braids but mostly for crediting them back to a white actress, and not the Fulani.
The influencer responded to criticism of her hairstyle by posting even more photos of it, including this one with the caption, "Hi, can I get zero f*cks please, thanks." Eventually, the ruckus died down and Kardashian West went back to her typical long locks, until now.
The Fulani braids made another appearance atop Kardashian West's head and especially considering the previous controversy, social media was quick to discuss the issue.
A large portion of Twitter was critical of the star's hairstyle.
One user pointed out that the source of frustration here is that Kardashian West knew the look would upset many of her fans but chose to wear it anyway.
Much of the criticism was harshly worded but some chose to find a sliver of humor in it.
Jokes aside, there were legitimate points about how braids are seen in modern society.
Other Twitter users came to Kardashian West's defense.
A point made my many is that people all over the world wear all different kinds of hairstyles borrowed from various cultures.
One user expressed her opinion that "it's just a hairstyle."
One fan reminded everyone that Kardashian West is actually being a good role model for her daughters, North and Chicago.
No matter your opinion on Braidgate, it's important to remember that Kardashian West is human and no matter her celebrity status, mean tweets are not solving anything. Be kind and use moments like this to educate, not hate.