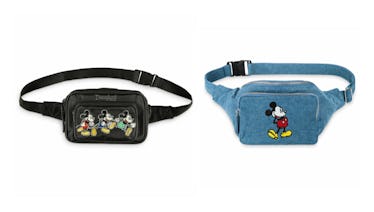 Disney Brought Back Their '90s Fanny Packs & Twitter Is In Love
Shopdisney.com
Remember going to Disneyland as a kid and your parents would wear those embarrassing fanny packs? Well, mom and dad should prepare to feel vindicated because the hip bags are back with a vengeance. Here's where to buy Disney fanny packs and reclaim the retro style.
The '90s have taken the fashion world by storm bringing back everything from tiny sunglasses and scrunchies to platform sneakers. Everything '90s is back and cool again and perhaps one of the biggest style statements from the decade is the fanny pack. The hip-hugging bags have been seen everywhere from high-fashion runways to fast fashion stores. Even celebrities are wearing fanny packs as of late. Most 2018 fanny pack styles, though, have been updated and redesigned with a modern twist, except for one.
Disney's black mickey mouse fanny pack is a classic, so why mess with it? Bonus points if your family still actually has one of these from the '90s, in which case you'll want to go find it in the attic and dust it off, but the design has hardly changed (if at all) so no one will know either way. Alright kids, grab your mom jeans, lace up your dad sneakers, and throw on your tiny sunglasses; we're going to Disneyland.
Mickey Mouse Timeless Hip Pack
There it is, multiple zipper compartments and all. This polyester beauty recently made it's internet debut and it was the missing fanny pack I never knew I needed. Featuring three Mickey Mouse patches at the front, and embroidered with the old-fashioned Disneyland font, it's the fanny pack that could.
Hold the cordless phone. The fanny pack also doubles as a shoulder bag! The waistband can be tucked into the pouch and the shoulder bag strap is also removable. Both are adjustable, as well.
Mickey Mouse Denim Hip Pack
Another vintage-style offering is this denim fanny pack featuring a single mickey mouse patch. Can't you just picture your parents wrangling together all the kids while wearing this bad boy?
If you're skeptical that people will actually buy and wear these '90s-inspired Disney fanny packs, you'd be wrong.
Twitter loves Disney fanny packs.
"Yes, I bought a Disney fanny pack," wrote one savvy shopper. She may be my new style icon.
You sure sound like a cool mom!
If Niall Horan can wear a fanny pack, we all can.
"I'm not going to lie, I've really gotten attached to my fanny pack. It might stay around post Disney," tweeted one user. Whether it be this classic '90s style or other more modern designs, people just love wearing fanny packs at Disneyland.
"I bought a mickey mouse fanny pack at work today for disney, i'm even more excited now," the excitement is real. Also, what is your job?
"I just spent the past 20 minutes vomiting then crying because I couldn't find my Disney fanny pack and if this isn't an accurate depiction of my life idk what is," posted a concerned citizen. I must say, this sounds truly terrifying.
"Real time update: I have located the fanny pack," and thank god because I was legit worried.
"Okay so who's gonna take me to Disneyland because I just bought the cutest f*ckin Disney Fanny pack ever and I'm TRYNNA stunt," tweeted a fanny pack fan. But honestly, if you're wearing a Disney fanny pack you don't need to try, you're already stuntin'.
"I've leveled up being a Dad by wearing a fanny pack to Disney World," and honestly #dadgoals.
Disneyland and fanny packs: name a more iconic duo. I'll wait.