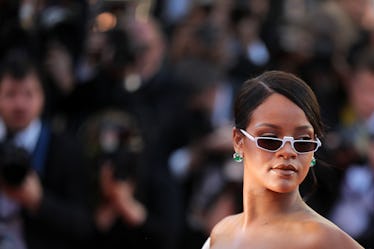 Tiny Sunglasses Are The Official Shades Of Summer 2018 & They're A Total Throwback
Christopher Furlong/Getty Images News/Getty Images
Unless you've completely removed yourself from all social media platforms and have decided to take a break from keeping up with ever-changing fashion trends, then you already know that tiny is the official sunglasses shape of summer 2018. OK, OK, so tiny isn't exactly a shape—but as you've probably discerned by now, summer 2018 isn't necessarily about shapes as much as it is about size when it comes to throwing shady style. The more mini, the more á la mode; Matrix-style specs are back with an uber edgy bang.
The '90s were, of course, the first decade to see itty bitty sunnies rise in popularity. Every icon of the time, from Winona Ryder and Lisa Bonet to Drew Barrymore and Aaliyah, was spotted in the trend and, together, made it ubiquitous with grunge-chic. Seeing as the '90s have been experiencing a sartorial revival for the past handful of (read: 10) years, it's no surprise the eyewear style is back and hitting the mainstream — especially since mega stars the likes of Bella Hadid, Kendall Jenner, Selena Gomez, Rihanna, Millie Bobby Brown, Adwoa Aboah and more have all championed the trend.
Even though Mindy Kaling's recent tweet lamenting the rise of mini sunglasses went viral, the trend is still here in full force and is unquestionably the accessories trend of the summer.
Below are 10 of the coolest options on the market that you can shop, all for under $50.
Bridge The Gap
If you're into cool architectural sunnies, then this pair, which features an angular exaggerated nose bridge, might be for you. Their tortoise finish and old school lens shape give them a decidedly retro feel.
Sunrise Eyes
Look through these cotton candy gradient lenses and it'll be like looking at the smeary dawn sky all day long. Their pastel hues and clear frames make them super playful and quirky — they'd go great with denim, a white top, and some fun sneakers.
Morpheous Madness
See what I mean by Matrix-style specs? These look exactly like the sunglasses Morpheous wore in the series and honestly, they might be my favorite of the bunch. They go with anything and look edgy and bad*ss.
Around The Corners
Sporty, durable, and angular, these Quay sunnies are perfect for the stylish outdoor enthusiast.
Coming Up Rosy
This combination of gold and burgundy screams '90s cool. With the rectangular shape added in? Optimal Winona.
Modern Art
These guys are just plain rad. Thanks to their half-moon lenses that are exposed on top, as well as the squiggly frame design, they look more like an avant garde sculpture than they do everyday sunnies.
White Lines
If you want to mix some '50s glamour in with your '90s edge, opt for a pair of tiny sunnies featuring white frames.
Greetings, Earthlings
Calling all my fellow alien enthusiasts! These shades, which look more like Martian eyes, are out of this world. They'd look awesome paired with a super feminine and ruffly floral dress and a pair of white sneakers.
Round and Round We Go
The marbled pattern on these sunnies reminds me of a giraffe, so naturally, I love them. (Giraffes rule.) They're part old school glam, part '70s chill — the absolute perfect combination. I'd pair them with an all-black look, a printed neck scarf, and a cool woven straw bag.
Yolk, Dude
Totally trippy. These sunglasses not only feature a blindingly bright yellow, but the shape of lenses looks like smooshed ovals — they're so narrow they're almost nonexistent. While I'm not sure how much good they'll do in terms of sun protection, they'll certainly make you look cool.