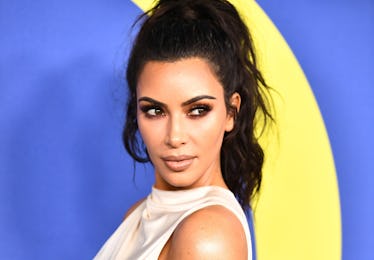 Kim Kardashian Just Blasted Her Old Publicist Who Shot Down Her Fashion Dreams
Kim Kardashian was awarded the first-ever CFDA Influencer Award at the annual CFDA Fashion Awards on Monday, June 4. She attended the ceremony in Brooklyn, New York, with sisters Kourtney Kardashian and Kendall Jenner in tow, and she looked like a straight-up goddess in an all-white ensemble consisting of a crop top and floor-length skirt. Kim Kardashian's CFDA Influencer Award acceptance speech was gracious to the organization hosting the awards, of course, but it was also a big "look at me now" to her former publicist who once said Kardashian's fashion dreams weren't realistic.
Kardashian started out her speech by poking fun at herself. "I'm kind of shocked that I'm winning a fashion award when I'm naked most of the time," she said. Oh, Kim. She continued, "This is seriously such an honor, so thank you to the CFDA for this award."
Then homegirl went in about her former publicist (whom she mercifully did not name). Kardashian said,
It was maybe seven years ago when I had a publicist and she asked what were my goals, what were my dreams. And I said, 'I just want to be on the cover of a fashion magazine.' And she said to me, 'Let's get some realistic goals because that will never happen.' Of course, I sent her my Vogue cover when it came out.
Kim Kardashian literally hit her former publicist with an IRL "if you can't handle me at my worst, you don't deserve me at my best" meme, and I am shook.
Kardashian was one of a group of women to be honored at the CFDA Fashion Awards on June 4.
She closed out her speech by saying, "It's really a trip getting an award for fashion when it's something I've always really loved. So thank you so much for this, it means a lot." Hosted by Issa Rae, the event honored Naomi Campbell, Donatella Versace, Mary-Kate and Ashley Olsen, and Diane von Furstenburg and other icons.
On the CFDA Awards red carpet, Kardashian talked about Kanye West's new album and how she reacted to the song "Wouldn't Leave" after hearing it for the first time. The song includes lyrics about Kardashian that say,
They say, 'Build your own' — I said, 'How, Sway?' / I said, 'Slavery a choice' — they said, 'How, 'Ye?' / Just imagine if they caught me on a wild day / Now I'm on 50 blogs gettin' 50 calls / My wife callin', screamin', say, 'We 'bout to lose it all!' / Had to calm her down 'cause she couldn't breathe / Told her she could leave me now, but she wouldn't leave.
Kardashian told Entertainment Tonight that she and West did get in a fight over his comments about slavery being "a choice," among other things. "Did I talk about it? Did I scream about it? Did I cry about it? Did I fight about it? Yeah," she said, continuing,
That's not stuff we put on social media — I'm not going to start tweeting what my thoughts are, but we have those moments and that was the one song that he didn't really play for me until the last minute, so I heard that last minute and it meant a lot to me.
She also credited her husband for helping her build up her confidence over the years, which undoubtedly has helped her grow her brand in makeup, fashion, social media, and more. "He is so confident," she said, "He would always build up my confidence to be who I want to be." She continued,
And so I'll voice my opinion when I think there's something that is maybe done wrong — or even if the messaging is right [and] the communication isn't quite there to figure that out. But I always believe and trust in him that he will always eventually explain himself because I know it's hard. I know what he really means when he says something and I know people will too at some point.
Congrats on your Influencer Award, Kim! I'm sure that publicist is shaking in her boots.