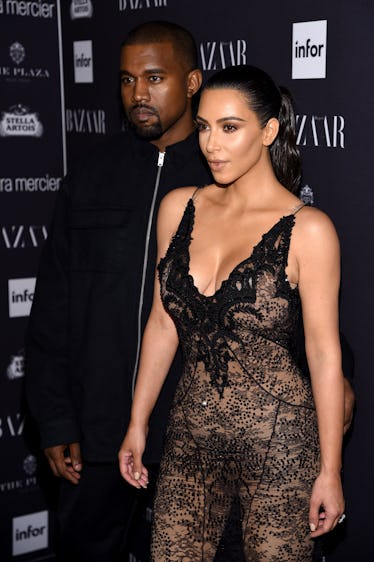 Kanye Revealed What Kim K Really Said About His Slavery Comments On His New Track
Dimitrios Kambouris/Getty Images Entertainment/Getty Images
On Thursday, May 31, Kanye West had a secret listening party in Wyoming for his upcoming album. While previewing tracks, West also revealed what went on behind the scenes during his return to the public eye the last couple of months. In one of his songs, Kanye West revealed Kim Kardashian's reaction to his slavery comments, and it does not sound like Kardashian-West was pleased.
According to Just Jared, West played his seven-track album called Ye for his closest friends and a few journalists during the Thursday night listening party. One of the tracks appears to address the aftermath of West saying slavery "...sounds like a choice" on TMZ Live on May 1. From the lyrics in West's song, it sounds like Kardashian was as upset as many people were when she heard what West said about slavery.
The lyrics West reportedly rapped about the ordeal are in the track called "Wouldn't Leave." The part of the song about Kardashian's reactions goes,
Wife calling screaming saying we're about to lose it all I had to calm her down 'cos she couldn't breathe, I told her she could leave me now but she wouldn't leave.
Later in the song, West raps, "This is what they mean for better or for worse huh?"
You'll recall the general to reaction to West's comments referring to slavery as "a choice" was not a great one. It appears that Kardashian wasn't pleased with West either. If West's lyrics are based on what actually happened, then it seems like Kardashian was really worried about how West and their family would rebound from the backlash.
Honestly, it's kind of a relief to hear that Kardashian had an emotional reaction to these comments, because it's pretty careless for West to walk around saying slavery was a choice. Granted, you don't know if she was more upset about the content of what he said or about how it would affect their family, but it's a little reassuring to know that at least one person (Kardashian) in the family seems to understand that comments like that are extremely reckless.
However Kardashian felt at the time, she made sure to take up for her husband in public. Per ELLE, a source relayed to People that Kardashian was "absolutely worried" about West, but she kept her public persona as one of support for her husband. The source added that Kardashian's "tweets and everything she's been saying is definitely very calculated to help Kanye."
Following the comments from West on TMZ Live on May 1, Kardashian retweeted tweets that were positive reviews about West's interview (none of them mention the slavery comment).
For a refresher, West's full comments about slavery from the May 1 interview were basically incredulous at the fact that slaves remained slaves for 400 years. In a clip of the interview posted to Twitter, West said, "When you hear about slavery for 400 years. For 400 years?! That sounds like a choice. Like, you was there for 400 years and it's all of y'all!?"
For another refresher, slavery is, by definition, not a choice.
"Wouldn't Leave," West's track about how the ordeal affected his relationship with Kardashian, somewhat addresses the couple's dynamic. Other lyrics in the song apparently referring to Kardashian are,
For any guy that ever f*cked up ... ever embarrassed they wife. She told you not to do that sh*t. She told you was gonna f*ck the money up. But you didn't wanna listen, did you? Now you testin' her loyalty.
Well, it seems like Kardashian kept her loyalty to West throughout the tough time even though she might have been upset or scared behind closed doors.
It's not unusual for Kardashian to defend her man. She even tweeted support for West ahead of the listening party. A line in West's "Wouldn't Leave" says, "I ain't finna talk about it 'nother four centuries," which likely refers to his slavery comment. So, if West lays off the slavery-was-a-choice narrative, I think things will be just fine with him and Kardashian.