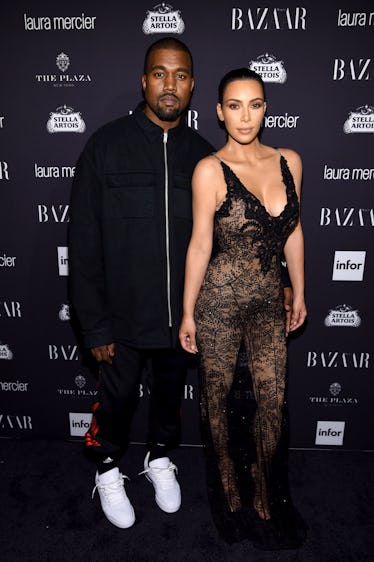 Kim Kardashian Got Real About The Fight That Inspired Kanye West's "Wouldn't Leave"
Dimitrios Kambouris/Getty Images Entertainment/Getty Images
Kanye West's latest album, Ye, debuted to lots of success. All seven songs on the album occupied the top seven trending spots on both Apple Music and Spotify this past weekend — an accomplishment that West tweeted about saying he was "in tears." While all of the songs on Ye talk about West's personal life, one of the most revealing is "Wouldn't Leave" — a song about his marriage with Kim Kardashian. The song details a fight he and his wife had over his comments about slavery being "a choice," and Kim Kardashian's reaction to Kanye West's "Wouldn't Leave" shows how much the two support each other, for better or worse.
"Wouldn't Leave" lays out the couple's dirty laundry when West raps,
They say, 'Build your own'—I said, 'How, Sway?' / I said, 'Slavery a choice'—they said, 'How, 'Ye?' / Just imagine if they caught me on a wild day / Now I'm on fifty blogs gettin' fifty calls / My wife callin', screamin', say, 'We 'bout to lose it all!' / Had to calm her down 'cause she couldn't breathe / Told her she could leave me now, but she wouldn't leave.
He later raps, "This is what they mean for better or for worse huh?" The song is revealing, to say the least. But did Kim Kardashian approve it?
At the 2018 CFDA Fashion Awards on Monday, June 4, Kardashian spoke to Entertainment Tonight about the song and confirmed West's lyrics that say they fought about his slavery was "a choice" comments. "Did I talk about it? Did I scream about it? Did I cry about it? Did I fight about it? Yeah," she said. Kardashian continued,
That's not stuff we put on social media — I'm not going to start tweeting what my thoughts are, but we have those moments and that was the one song that he didn't really play for me until the last minute, so I heard that last minute and it meant a lot to me.
She added, "I really like that song. But yeah, we have different views sometimes, but that's my husband, you know?"
Kardashian was at the CFDA Fashion Awards on Monday, June 4, to accept the event's first-ever Influencer Award.
In her red carpet interview with Entertainment Tonight, Kardashian said that she was in the room while West was creating the seven songs on Ye. She also revealed West had an entirely different album he was going to release before tossing it all out and creating all of Ye in the last few weeks. Yeah. "I was in the room for making all of the songs and hearing things and it's a really fascinating process," she said, "especially since he scrapped his whole album and redid it in the last two weeks and just came up with all new songs. I left to go home for, like, two days and then I come back and it was a whole new album. It's fascinating to see the process."
West tweeted on Monday, June 4, reacting to the success of Ye, saying it brought him to tears.
According to Complex, all seven songs from Ye occupied the top seven trending spots on Apple Music and Spotify its debut weekend. West tweeted a screenshot of the news and said, "I feel so blessed. For everyone that didn't turn they back. I'm in tears right now. I love all of you."
Kardashian reacted to the success of the album with Entertainment Tonight. She said,
I'm so happy that it's been well-received because I've seen him go through a lot and he's just the most genuine person. He might say things that might get misinterpreted and people don't see the context behind it, but I always know his heart, so I'm glad that it was really well-received.
Kardashian also credited her husband for helping build her confidence throughout their relationship. "He is so confident," she said, "He would always build up my confidence to be who I want to be." She continued,
And so I'll voice my opinion when I think there's something that is maybe done wrong — or even if the messaging is right [and] the communication isn't quite there to figure that out. But I always believe and trust in him that he will always eventually explain himself because I know it's hard. I know what he really means when he says something and I know people will too at some point.
No one loves Kanye like Kanye loves Kanye... except maybe Kim Kardashian.