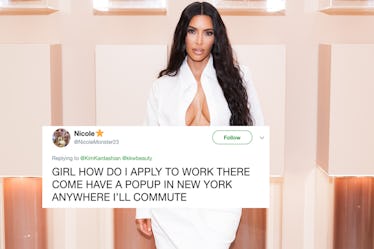 The First KKW Beauty Pop-Up Shop JUST Opened In L.A. & Fans Are Already Asking For One In NYC
Presley Ann/Getty Images Entertainment/Getty Images
When Kim Kardashian West first blessed us with her cosmetics brand, KKW Beauty, my initial thought was, "How soon can I swatch?" So when Kim K announced a month-long pop-up shop in Los Angeles, I was faced with two options. The first? To move to L.A. in a poorly thought out attempt to get my hands on these products. The second? To pray to the beauty gods that a KKW Beauty pop-up shop in NYC would be next.
While I have full trust in Kim K's vision (yes, I bought her book of selfies back in 2015, and no, I'm not ashamed), I really like to test a product myself before committing to a purchase, especially when the price tag isn't cheap. Popping in Sephora and covering my arms with swatches helps me justify my makeup splurges, and while I did take a risk to score the original Créme Contour & Highlight Kit ($48, kkwbeauty.com) — which I now swear by — I know I'm not the only one hesitant to blindly buy online.
If anyone could make a product look great on Instagram, it's undoubtedly Kim K and her makeup artist BFF, Mario Dedivanovic. But while their flawless posts help to attract interest in the products, they sometimes backfire by leaving fans wondering if the products will have the same effect when a professional makeup artist isn't applying them on a gorgeous celeb like Kardashian. Los Angeles locals with these concerns will finally get to test-drive the products themselves via the pop-up, which will run from today, June 20, until July 27 at the Westfield Century City (10250 Santa Monica Blvd). This leads me to my question: Will New York City be next?
At the moment, Kardashian's personal Instagram as well as the KKW Beauty account are both heavily focused on the L.A. launch, so they haven't made any hints as to where they might be headed next, if anywhere. But the more photos they post from the L.A. location, the hungrier I am to experience it myself. In person. In New York City. Is that too much to ask?
I mean, just peep these photos of how cool the shop looks, and tell me you don't want to teleport there right now. (Yes, those are huge KKW Beauty concealers on the wall, as well as a huge, moving KKW x Mario Palette filled with pigment, thank you very much.):
Keep in mind, I'm not alone in my plea for a NYC pop-up. Twitter users have been demanding a follow-up location ever since the first shop was announced.
I'm glad to know I'm not the only one desperate for Yeezy-clad sales assistants to help me determine the perfect nude lipstick for me. Along with the eight new nude Créme Lipsticks ($18, kkwbeauty.com), it looks like the pop-up shop will also have the brand's entire range of products available for purchase. For lips, that includes three Lip Liners ($12, kkwbeauty.com), five multipurpose Ultralight Beams Duos ($32, kkwbeauty.com), and the kit that started it all, the KKW X Kylie Cosmetics Créme Liquid Lipstick Collection ($48, kkwbeauty.com). To sculpt the cheeks, the shop will have the iconic Créme Contour & Highlight Kit ($48; kkwbeauty.com), as well as three Powder Contour & Highlight Palettes ($44, kkwbeauty.com) and two oh-so-blinding Highlighter Palettes ($44, kkwbeauty.com).
If, like me, you have dreams of a family photo in the style of the KKW Beauty Conceal, Bake, Brighten ad campaign, you'll be happy to know that the Concealer Kits ($80, kkwbeauty.com) will be available to swatch in all 16 shades. You can also channel your inner makeup artist with the KKW x Mario Eyeshadow Palette ($45, kkwbeauty.com), KKW x Mario Créme Lipstick ($20, kkwbeauty.com), and two KKW x Mario Lip Gloses ($18, kkwbeauty.com), as well as all five KKW X Argenis Créme Color Sticks ($18, kkwbeauty.com). Fragrance fans will also get to sniff the entire KKW Fragrance line, as evidenced by the large perfume bottle cutout in the shop as well.
If reading that product rundown doesn't have you taking to Twitter and tweeting Kim K herself for a NYC pop-up, then I seriously can't relate. I've got my fingers crossed it happens — give the people what they want, Kim!