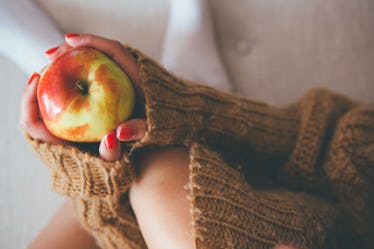 Fall Is Almost Here, So It's Time To Be Basic AF & Stock Up On These 6 Foods
Over the weekend, I lowered the temperature in my apartment not because it was hot, but because I genuinely wanted to bust out my favorite sweater, skinny jeans, and fuzzy socks an entire month before fall is officially here. I realize that might sound a little extra, but hear me out, guys: When I popped into Trader Joe's the other day and spotted boxes of figs in the produce aisle, I took it as a sign that it's time to embrace the upcoming season and buy all of the best fall foods for your body. As far as I'm concerned, I can't wait to make my living space feel and taste like autumn. And listen, generally speaking, I try my best not to rush the seasons so I can enjoy each one and all of their individual quirks as they come. But I've been over summer humidity and short-shorts since mid-July, so I am more than ready for my large PSL ASAP, please.
Fall is, has been, and always will be my favorite season. Come @ me if you will, summer lovers, but to me, there's really nothing better than snuggling into an oversized sweater on a brisk fall day, slipping on a pair of Uggs, and making a pit-stop at Starbucks for a grande PSL. Now, I realize my idea of the perfect autumnal morning actually sounds basic AF, but it turns out the most #basic seasonal delicacies of fall are just as nutritious as they are delicious, so go ahead and stock up on the following fall foods that are just as autumnal as they are beneficial to your body.