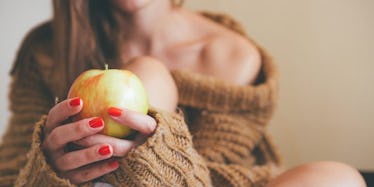 9 Ways To Eat More Apples This Fall That Don't Involve Putting Them In Your Pie
Fall is so close I can already taste the PSLs. But, contrary to popular belief, I'm convinced my being pumpkin-obsessed has less to do with me being basic and everything to do with marketing ploys. Over the last few years, it's as if autumn has become synonymous with the bright orange gourd enticing our taste buds online and in stores, while apples (you know, that other fall fruit), are rarely acknowledged beyond pie at Thanksgiving. Instead of suffocating our palettes with pumpkin spice everything, I think it's high time we find ways to eat more of the pomaceous this season because apples are good for you and perfect for fall.
Remember that sing-song phrase your mother taught you about eating an apple a day keeping the doctor away? Turns out, it's not just a cutesy jingle, there's factual evidence to back it up. Apples may not be considered a "superfood" (yet), but one serving yields a slew of antioxidants, fiber, minerals, and phytonutrients that keep your body thriving and your stomach happy.
It's unfortunate that apples are the autumnal afterthought now that pumpkin spice stole the show, but you'd be surprised how easy (and delicious) it can be to implement the fruit into your daily routine. Here are a few ways to eat more apples this upcoming season and every one thereafter.
1. Indulge With Nut Butter Pairings
An elementary school classic, apples and nut butter never gets old.
I've since expanded my palette from the usual fruit and peanut butter combo by swapping PB for almond or cashew butter (Julie's Real is my absolute fave). It's the perfect snack in between meals or a healthy alternative to processed, overly sweetened desserts.
2. Apples As Nachos
An apple a day keeps the doctor away, so you might as well appease the doc and your taste buds by complementing the fruit with all the right fixings.
This recipe is relatively free forming. How many apples you slice will ultimately depend on how many mouths you feed, and toppings should match your taste bud's cravings.
For a sweet confection, drizzle on warm caramel, chocolate, marshmallow, or hazelnut sauce (I'm currently obsessed with Nutiva's organic spread), and add a generous sprinkle of either coconut flakes or bits of broken pretzels.
3. Heat One Up And Top It With Cinnamon
If you're living the dorm life, or prefer to live life as a lazy baker, baked apples in a bag was my go-to snack in college when I would crave something sweet. All you'll need is five ingredients and a plastic bag for a quick snack and even quicker clean-up (win).
Peel (or don't peel, this step is not mandatory) your favorite kind of apple before coring and slicing it. Place the pieces into your baggie and add a spoonful of sugar, cinnamon, ¼ tsp of cornstarch, and one tablespoon of water. Seal, shake, and reopen the bag just a smidgen to allow ingredients to vent. Microwave on high for roughly two minutes and serve hot.
4. Whip Up An Apple Smoothie
Smoothies are a great way to wiggle a few servings of fruit into your diet, and there are a ton of recipes out there that use an apple as a main ingredient.
From sweet combos like Maple Almond Apple Pie smoothie to strictly green drinks like this Avocado Apple Pie smoothie recipe, there's something for everyone who'd rather drink than chew their fruit.
5. Make It Saucy
My mother once made a mistake whipping up her famous apple pie and ended up served the filing as organic sauce. It was her most delicious cooking catastrophe to date.
You can take apple sauce to-go as a snack or pair it with dinner as a side dish. Buy it or bake it in batches for a healthier alternative to sugar-packed, store-bought containers.
6. Make Apple Pancakes for Breakfast
If you love pancakes decorated with fruit, this recipe is about to blow your mind. I stumbled upon this little slice of breakfast nirvana via Liv. B's vegan YouTube channel and, naturally, pressed rewind over and over until the recipe was etched into memory.
It's easy to make, tasty to eat, and gets major bonus points in my book for being vegan-friendly.
7. Add Chunks On Top Of Oats
Maybe you're not a die-hard apple eater just yet (no worries, I'm confident this list will convert you), so if you're just browsing for a recipe that eases you into it, allow me.
Top a warm bowl of oats, millet, or any hot cereal that you prefer with fresh, chilled chunks of a juicy apple. That fresh-out-the-fridge coolness combined with steaming cereal is a combination your taste buds will enjoy and crave for mornings to come.
8. Sneak A Few Slices Onto Grilled Cheese
Get fancy with me and add thin slices of green apple in between layers of cheddar for a tasty new twist on the traditional grilled cheese sandwich.
The different flavors are incredibly appetizing when combined on a ciabatta roll or between pieces of multigrain bread.
9. Pair An Apple With Dark Chocolate For Dessert
You don't necessarily have to go out of your way to eat apples; you can implement them into your daily routines by pairing one or a few slices with your favorite staples.
I'll eat anything swimming in chocolate, and fruit just goes so well with this indulgence. Take a few squares of dark chocolate with pieces of apple for a healthier alternative to cookies or cake for dessert.