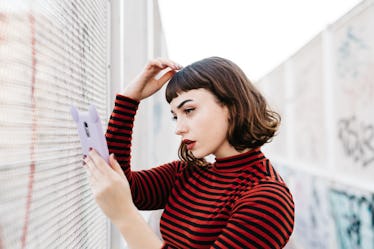 If You Love But Also Hate Your Bangs, These 7 Things Will Speak To Your Soul
To get bangs or to not get bangs? That is the question. It really is such a dilemma. On the one hand, bangs make such a style statement, and they can easily change up your look when you're craving to do something different. On the other hand, they are pretty difficult to manage at times. So, what's a girl to do in this style crisis? Well, as someone who has bangs, I can tell you I love them — but, our relationship surely has its ups and downs. You know when you have bangs, you're making a solid commitment to the bangs lifestyle.
There was a chunk of time when I didn't have bangs, and it was smooth sailing. I could just get up and go without any extra maintenance. Plus, I could always see without hair in my eyes. But as manageable as my hair was, I only wanted to get my bangs back. Me and my bangs are just connected. If you also have bangs, I'm sure you know what I'm talking about.
These seven things about having this kind of hairstyle are relatable AF. We can sympathize with each other on this love/hate relationship we're in. Your bangs may be covering your eyes, full of dry shampoo, or uneven — but at the end of the day, you look fab in your bangs and everything else can easily be ignored.