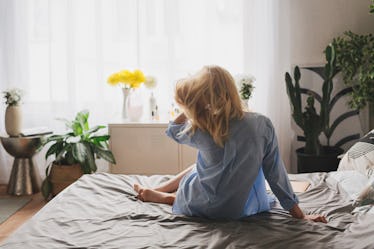 15 Annoying AF Hair Struggles So Many Of Us Can Relate To On The Reg
Lumina/Stocksy
Having a bad hair day? Ugh, I know the struggle can be so real. Whether you had to settle for a hat this morning, or just didn't have the time to do your average styling — it's safe to say that you might be feeling a bit messy. You'll be playing with your hair all day, putting it into ponytails and trying to find something that will really just pull it all together for the afternoon on Pinterest. Maybe your straightener just decided to stop working, or the weather got in the way. Rainy days are the least of our annoying hair struggles, and these things we can relate to on the reg.
In high school, I used to wake up a little early and give myself that extra time to totally stress out over my look. When senior year of college came around, I got a little lazier and my hair was too long to really do anything but throw it into ponytails. So, I settled for the a much simpler lifestyle.
On the days where I truly tried, I would curl my hair and it would come out looking like a perm, or I'd be putting it up for dance recitals and covering it in hairspray until it felt like plastic because that bun just couldn't fall out on stage no matter what. Lesson learned — just keep it simple. But, if on an average day you're still struggling with your hair, like my incredibly awkward self, then you know these 15 things to be totally true.