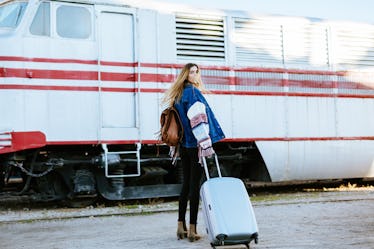 People Who Live Out Of Their Suitcase In Their 20s Have These 12 Things In Common
BONNINSTUDIO/Stocksy
If your schedule is oh-so-crazy, or you're just a 20-something who loves being on the move, then you know what it's like to live out of your suitcase. The summer in college that I had my internship, I was packing my bags two to three times a week to go spend the night somewhere else, and would load my car up with a little cooler of food I could cook for dinner when I got there. It wasn't the most ideal at first, but I learned to absolutely love it. People who live out of their suitcase have a lot in common — from wanderlust to what they like to wear. It's sort of a lifestyle, and one they're pretty good at living.
For any other person, packing so often would be such a drag. Think about any trip that you've ever taken. Maybe it was just the excitement to reach your destination, or even some travel anxiety. But, sticking to your list and finding a way to make all of those shoes fit into your suitcase just wasn't fun. Honestly, that's the part about traveling they always forget to tell you about. Making memories has to start somewhere, though!
For those who find themselves constantly roaming, living out of a bag is a breeze. I like to think of myself now as someone who could seriously stick to the suitcase lifestyle — and if you consider yourself to be one of those people, too, then we have at least some of these 12 things in common.