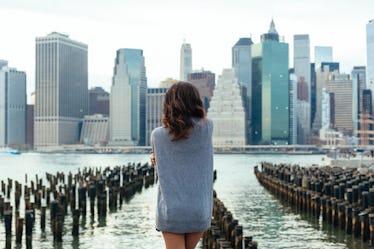 The Best City To Move To Throughout The World, According To Your Zodiac Sign
Good Vibrations Images/Stocksy
Feeling a little spontaneous? You're 20-something, so the thought of moving out has probably crossed your mind more than once. Graduating college and finding a new city to call home is a classic story that we've fallen in love with, thanks to our favorite sitcoms. But, deciding just where to go isn't quite as easy as the shows make it seem. You've done your fair share of traveling, and you'd love to find work and follow your passions just about anywhere in the world. The universe knows your wanderlust is unreal, and the best city to move to is simple, if you follow your zodiac sign.
You hate to leave your family and friends behind, but you'll always find your way back home. Life is all about living, and you're so ready for a change in scenery. Maybe you studied abroad, so you've seen some of these cities already in person. It's been a daydream of yours since the day you left that you'd live there again so soon.
The world is full of places worth seeing, and picking just one to spend your time can seem nearly impossible. That's why it might be best to just leave it up to the stars. They say everything happens for a reason, so leaving your next adventure up to astrology sounds pretty smart.