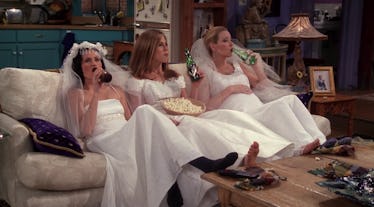 8 Monica, Rachel, & Phoebe Moments From 'Friends' All Roomies Can Appreciate
NBC/Netflix
I'll be there for you... because you live in the same place as me, so it's kind of a package deal. Living with our best friends is an adventure, to say the least. In fact, it's the exact moment that our best friends become more like sisters. You fight, you make up. You wear each other's clothes, and appreciate their presence more than you'd ever let them know. We've learned a lot of things from Friends about our own friend crew, but our favorite Monica, Rachel, and Phoebe moments from Friends remind us why we appreciate our roommates — no matter ridiculous they may be.
You've definitely had your memories together. There's that time you ordered way too much Chinese food, or fought over the finale of Project Runway, cleaned the apartment together (which is always an experience), or finally figured out who to call when your hot water goes out.
She's your gal pal, so you don't want to yell at her for leaving all her dishes in the sink... again. Last week she brought you home Chipotle, so it all weirdly evens out. It may not always be sunshine and rainbows like you dreamed it would be, but our besties are the best roommates because they're used to being there for the good and the bad.
Here's eight times Rachel, Monica, and Phoebe reminded us of our roommates, and why we still love them, despite the craziness.