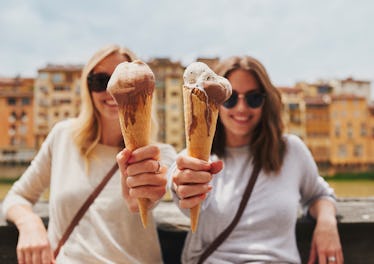 5 Best Gelato Spots In Florence To Try, Because Ice Cream Is So Overrated
Aila Images/Stocksy
I scream, you scream, we all scream for... gelato! Ice cream is so overrated. *Rolls eyes.* Sure, we all love a good pint of Ben & Jerry's Americone Dream, or a scoop from that local shop down the street. But, the sweetest treats can truly only be found abroad. Europe is known for its rich cultures, iconic art, and effortlessly chic fashion, but it's also commonly credited for its unreal food. From the cheeses of France, to the wines of Spain and waffles of Belgium, you could easily eat your way from one country to the next. If your sweet tooth just can't be beat though, we've rounded up the best gelato in Florence for you, so that you can truly savor your Italian getaway.
You've heard about the pizza and the pasta, and I promise you it's everything it's cracked up to be (if not more.) However, every meal should end in dessert. I mean, that's the way it was when we were kids, right? So, let me give you the scoop.
Always ask for a recommendation from the chef, if you're unsure what to order. The best restaurants and gelato spots in Italy will have made the items on their menu fresh that day, or even that hour. Food is an art, and the recipes are probably more secretive than the Krabby Patty Formula.
Whether you're spending months in the city because you're studying abroad, or just taking a 10-day trip to see the sights, there's so much worth eating in Florence. The number of places you should try will forever outnumber the amount of meals you'll truly have time for, so I hope you prioritize these gelato stops during your stay.