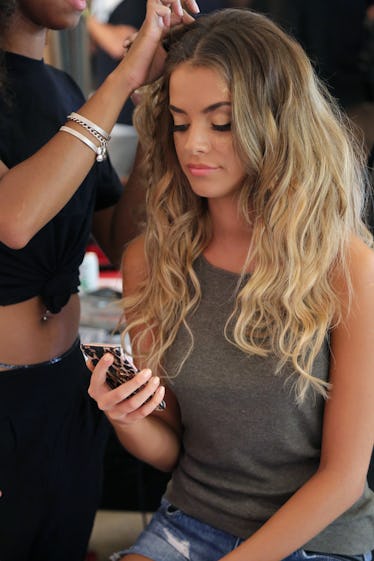 3 Easy Ways To Get Beach Waves Without Having To Hit Up The Beach, According To Hairstylists
Alexander Tamargo/Getty Images Entertainment/Getty Images
As summer starts to wind down, most of us who are dreading the return of snowy months are frantically trying to squeeze one last beach trip in for a relaxing day of sand and sun. But if you can't swing a last-minute vacay and are just looking for easy ways to get beach waves, I completely understand, and I've got you covered. Now, since my hair is naturally big and curly, that particular style isn't something I've personally ever been able to achieve — so I went to the experts to find out the best and simplest ways to get the look.
Brandy Butchek, of Prince + Broad Salon in New York City, tells Elite Daily that the key to getting the sexiest beach waves is to simply leave your hair alone after a wash. "If you have wavy hair, don't brush or comb your hair after showering," she explains. "You can brush before the shower or in the shower but not after leaving the shower. Put it up in a towel and let it soak up as much moisture as possible, then take the towel down."
Once your hair is damp, the stylist recommends applying a curl cream — she likes Whipped Creme by Sebastian ($10, ulta.com). Then, she says to flip your head upside down and scrunch the hair in that position. Once you're done, you can adjust the waves to your liking, but be sure not to put your fingers through you hair, as it may ruin the shape. Butchek also recommends letting the hair air dry and finishing up by scrunching in a cream like Easy Rider by Kevin Murphy to control frizz. Of course, you can always wrap up by spritzing a dry shampoo or sea salt spray in your hair to get that final beach-y touch.
If you've got a curling iron handy and don't have enough time for a wash, NYC hairstylist Cristina B at Rita Hazan salon has the perfect solution for second-day hair. The stylist says that the first step to achieving the beach-y look is all about applying the right product for your hair texture.
"For fine hair, use a volumizing mousse or spray," she explains. "For medium hair, use a light leave-in conditioner. For coarse hair, use a shine serum or a blow-dry cream." The next step, she says, is to dry your hair according to what works best for your hair type, and don't be afraid to add in some oils or serums if your locks are looking a little dry. After, it's time to pick up your tools.
"Using a curling iron, wrap one inch sections of hair, starting at the root and moving in different directions," the expert shares. "[For] a beach-y look, it's best to leave the ends of hair straight. To make this style last for longer than one day, I usually make waves a little tighter. By the next day it's the perfect bedhead." Cristina B recommends finishing by applying Oribe Dry Texturizing Spray or Oribe Après Beach Wave and Shine Spray.
For those of you who prefer to use a curling wand rather than an iron, Ashley Spaulding, a junior stylist at G Salon in North Haven, Connecticut, knows exactly how to get this playful, summer look.
"If you're starting with wet hair, the first step to take is using the right product. You want to use something before and after to hold the curl," says the stylist. "To make curling easier, you want to section out your hair into three or more sections so it takes less time and you miss no strands. Also, spray each section with product before curling." However, if you've decided to skip regular shampoo, the stylist says to use dry shampoo instead to give the hair some volume and texture.
"After curling the strand, you can tug on it a little to loosen the coil," she suggests. "You want to keep it messy, so you can curl every other strand a different direction and can also mix up the size of the sections."
To tame fly-aways after curling, Spaulding says to use a light oil or a little spritz of hairspray on the ends. Afterward, she suggests using a texture spray, followed by running your fingers through your hair, if you want a more tousled finish.
So there you have it, folks! Three simple and easy ways to get gorgeous beach waves just in time for summer — all without getting sand in your bikini bottoms.