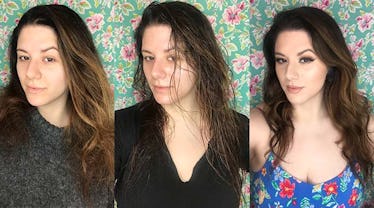 I Tried A Sugar Spray On My Hair & It's The Perfect Hack For Beachy Waves
Kim Carpluk
Sugar sprays will be the go-to hair care product this summer. This sweet formula delivers effortless beachy waves and leaves hair hydrated, not thirsty. Now you can enjoy hot AF hair without being salty about the side effects. I taught myself how to use sugar spray for hair and, let me tell you, it's much easier than driving to your nearest beach.
I yearn to simplify my long AF beauty routine and leave more time to have fun in the sun. If you want the salt water look without the drying salt spray, then a natural sugar spray is sure to sweeten the pot. When I'm near an ocean, my hair embodies mermaid realness, but when I try to recreate the look at home, salt sprays leave my dry, frizzy, and damaged locks looking sadder than ever. Salt naturally draws moisture out of its surroundings through osmosis (thanks chemistry class), so if you have dry hair like myself, it may leave your once hydrated follicles looking and feeling like straw.
Sugar, however, is a natural humectant. Unlike salt, sugar draws moisture out of the air and delivers it to its surroundings. Sugar will help to make your hair more hydrated all while creating the vacay-ready hair of your dreams.
I never had much success with salt sprays, so I really didn't know what to expect when I tried my first sugar spray.
Beach wave sprays enhance the hair's natural texture, and my natural texture is... frizz? My hair is not wavy, and it's not straight. Without hair products, it simply just exists in a big poodle-esque halo of split ends and dryness.
Sugar sprays work best when applied to damp hair, so I started by washing my dry shampoo dusted strands. To give my hair a fighting chance, I used the IGK Low Key Cleansing Walnut Scalp Scrub ($36; Sephora) to remove weighty product build-up at my scalp and root of my hair. To fight frizz to the best of my abilities, I conditioned with the Alterna Haircare Caviar Anti-Aging Anti-Frizz Conditioner ($34; Sephora). My difficult, dry hair loves this conditioner because it tames my unruly mop and gives my strands softness. A little bit goes a long way.
After showering, towel-drying, and combing through my damp hair, the time had come to spritz on the sugar spray.
Kerastase Aura Botanica Eau de Vagues Sugar Spray, $34, Kerastase
I tried out the Kerastase Aura Botanica Eau de Vagues Sugar Spray ($34; Kerastase), which is a 99 percent natural ingredient spray. This product contains Mexican aloe extract and Paraguayan sugar, so it's basically a vacation in a bottle. It's not available in the United States yet, but it will be by the end of April.
I spritzed on the product from the shaft of my hair toward my ends. My hair is so fine that I didn't need to divide it, but you might want to work section by section if you have thicker hair. That way, you can ensure no section is left behind.
After applying, I ran my fingers through my hair starting at the ends, working upward. This delivered some of the product toward my roots, where I didn't want a lot of wave, but I didn't want it to fall totally flat either. Using my fingers also allowed me to make sure my hair was evenly saturated with the product. By feeling for the slight sugar spray tackiness, I made sure none of my hair was ignored. I parted my hair as usual, and then I let the spray do its magic. You could blow dry your hair with a diffuser to speed up the process if necessary, but I figured since air drying works just as well, why add an extra step.
By the time I was done applying my makeup and getting dressed, my hair was good to go. The Kerastase Sugar Spray certainly gave me waves for days. Plus, the volume was outrageous. I was serving big-hair-don't-care vibes without the frizz that normally accompanies fuller locks. The spray did give my hair a light hold, but I could still run my fingers through my soft locks without destroying the style. My hair, though textured, still felt smooth and hydrated.
If your hair isn't naturally wavy or curly (like mine), you can also use a curling iron to boost the beachy impact. Normally, if I want my hair to look semi-decent, I have to curl my whole head, which takes anywhere from 15 to 20 minutes. Thanks to the sugar spray, I only needed to curl three to four tiny sections on each side of my hair just to add a little definition, which took less than five minutes overall.
For a low-key hot day when I don't want to spend 10 years making my hair presentable only to have it destroyed by humidity, this sugar spray is sure to save my life.