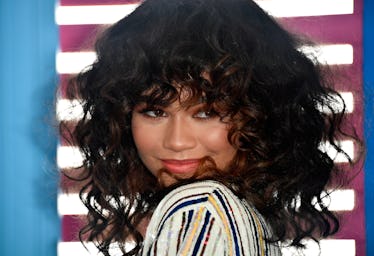 Zendaya Got A Platinum Blonde Pixie Cut & Twitter Is Obsessing Over The Switch-Up
Frazer Harrison/Getty Images Entertainment/Getty Images
Even celebrities are susceptible to hair boredom every once in a while. Case in point: singer and actress Zendaya, who surprises fans with a new, unpredictable hair style every few months. The star stepped out at The Fashion Awards to debut her most recent look, and the show was undeniably stolen by Zendaya's platinum blonde pixie cut.
On Dec. 4, the city of London was aglow with excitement for the annual British Fashion Awards. A young American actress and singer by the name of Zendaya Maree Stoermer Coleman was in attendance, and I wasn't ready for her. I've already forgotten who took home the actual awards, because Zendaya low-key stole the show before it even started. The show-stealing was achieved with her understated, yet drop dead gorgeous blonde pixie cut that I'll be talking about nonstop for the foreseeable future.
Zendaya has changed up her hair more times than I have done most things. The young celebrity has sported everything from dreadlocks at the Oscars (remember that disappointing controversy?), a perfectly sculpted afro to the InStyle Awards, and a literal mullet to the Grammys, and of course, she always slays. Seriously though, who else could pull off a mullet? No one else comes to mind.
While playing with length is nothing new for the talented multi-hyphenate, Zendaya experiments with color less frequently, so when I saw her blonde pixie cut, you could have knocked me over with a single strand of her impeccable hair.
The Debut
Zendaya is at one of the most fashionable events of the year, wearing a gorgeous Vivetta gown that leaves little to the imagination from the waist up, and yet all I can focus on is north of her eyebrows (which were also on fleek).
Social media savvy as she is, the actress introduced the world to her fresh, blonde hairdo by tweeting out the above photo and writing, "A platinum blonde pixie tonight cause why not?" You know what, Zendaya, you're right, why not?
(I know, I know, the whole point of this is Zendaya's amazing short hair, but the girl is fierce as f*ck no matter what. Her gown has velvet horses covering her breasts.)
Another angle, another beautiful Zendaya.
The Reactions
I'm not the only one to still be drooling over the it-girl's short, blonde strands, Zendaya's Twitter fans were quick to fawn over the look, too.
One fan wrote, "This is the best I've EVER seen a blondie pixie look on ANYONE! 🔥@Zendaya." Truer words have never been spoken.
Another proclaimed that "Zendaya with a pixie cut truly is my religion." Honestly, same. Where, when, and how can I convert?
I often measure things based on how many heart eye emojis they evoke, and this one is a winner, "Zendaya in that pixie cut my goooosh!😍"
"Zendaya wearing a blond pixie cut with horses on her tiddies. An icon." I concur, icon status fo sho.
Yes, Zendaya, you, you beautiful icon.
One hilarious fan tweeted, "Zendaya's pixie hair is a restatement of my gayness." I'll take that as a compliment for Z.
A reminder that Zendaya looks more than just good, "When I tell u this hair look good on zendaya it looks AMAZING! They look like they are going to do a duet 😂😂"
One fan of the cut wrote, "The #pixie is a cute feminine boyish hairstyle of sophistication of the sexy. @BlackHAIRSalons@iConversations. @Zendaya" So true, so true.
All in all, Twitter was here for the pixie and I'm here for Twitter.
So if you're contemplating a pixie yourself, remember that it is a powerful, stylish cut for all ages and all genders. If you still need a reason, just look to Zendaya and ask, "why not?"