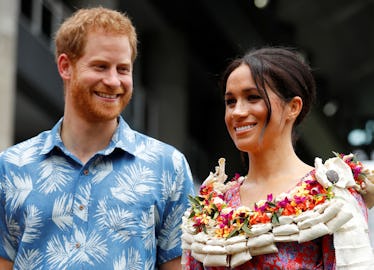 Meghan Markle Wore This Hairstyle For The First Time As A Royal & It Had The Sweetest Secret Meaning
Pool/Getty Images Entertainment/Getty Images
Despite the fact that I consider Kate Middleton my personal royal style icon — She's just so put-together! How does she do it?! — it would be cruel and unusual for me to not acknowledge how major Meghan Markle's royal tour ensembles have been. As she and Prince Harry travel the Commonwealth, she's served us lewk after lewk with ease, and she's even changed up her signature hairstyle. Yup, you read that correctly: Meghan Markle's French twist hairstyle momentarily replaced the iconic Markle Messy Bun, and the reason why is so, so cute.
If you thought for even a second that the announcement of Markle's pregnancy was going to negatively affect her sense of style, you were wrong — in fact, she's actually begun to step out of her comfort zone and experiment with new looks while she waits for her baby bump to fill out. Rather than play it safe with her go-to outfit recipe of chic pants, a coat, and an effortlessly cool messy bun, Markle has decided to use her appearances on tour to deep dive into a world of unexplored trends, and she's pulling from her surroundings as style inspo. While in Fiji, she wore the most gorgeous cape dress by Safiyaa in a shade known as "Fijian blue," and now she's even channeling Fiji vibes when it comes to the most signature part of her look: her hair.
Here's Markle and Prince Harry visiting the University of the South Pacific in Fiji, looking like a couple on the world's cutest island honeymoon:
Are they not the most adorable pair on the planet? After I stopped geeking out over their island-inspired ensembles and general cute couple vibes, I started to notice that, while Markle was rocking a tousled updo, it wasn't the signature Markle Messy Bun we've all come to know and love.
From the front, it almost looked like her go-to hairstyle, with a few loose strands and a messily pulled-back crown...
...But after seeing a few profile shots, it became clear that it wasn't a messy bun at all, but a French twist, adorned with white flowers!
Um, hi, I love this look for so many reasons. Markle is not only the Duchess of Sussex, but also the Queen of Updos, and it only makes sense that she start branching out beyond the Markle Messy Bun that earned her the latter royal title in the first place. Whereas her signature style consists of a bun gathered messily at the nape of the neck and accented by loose, piecey tendrils framing the face, a French twist is a much more chic, refined updo that feels more appropriate for a royal, IMHO. Of course, Markle still made the style her own, with a middle part and some piecey strands pulled out to keep consistent with her traditionally casual vibe.
The shape of the updo itself is exciting because it's a change for Markle, but the really sweet thing is all about her choice to adorn the look with three beautiful white flowers:
Markle's flowery bun definitely compliments the overall ~island time~ aestheticshe and her hubby were going for with their tour looks, but there's so much more to it than that. According to PEOPLE, the blooms are Frangipani flowers, a flora native to Fiji, so Markle's 'do is a subtle yet sincere nod to this exciting stop on her first tour. What's more, Frangiani flowers are often used to symbolize a married couple's eternal bond, so they're a shout-out to Prince Harry as well.
This stylistic choice simply serves as further proof that they really are as adorable a pair as they seem:
I love seeing Markle take on more fashion and beauty risks, and when there's a cute, lovey-dovey angle behind her choices, my inner hopeless romantic is even more here for it. She might have to start wearing Frangipani flowers in her everyday Markle Messy Buns, too, because it's clear that Prince Harry was huge fan of this look, and TBH, so was everyone else.