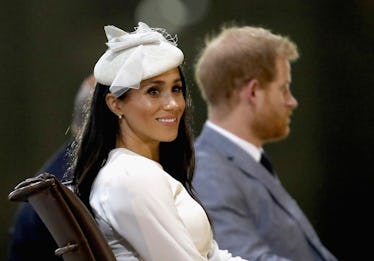 Meghan Markle's Outfit In Fiji May Hint A Baby Boy Is Coming
Chris Jackson/Getty Images Entertainment/Getty Images
I'm not here to start rumors, but Meghan Markle's stylist might be. The Duchess of Sussex is continuing her tour in Fiji with her husband Prince Harry and just stepped out in a gorgeous gown that was a very specific color. Fans can't help but wonder if Meghan Markle's dress in Fiji is her way of telling us a baby boy is on the way thanks to it's definite "baby blue" hue. Sure, this theory is somewhat of a stretch. And sure, it'd be a very roundabout way to reveal her baby's sex. And it's 2018 and a baby girl can also wear blue. But also, anything is possible with these two. Elite Daily reached out to Kensington Palace for comment on the speculation but did not hear back by the time of publication.
On the night of Tuesday, Oct 23, Fiji's local time, Harry and Meghan attended a State Dinner hosted by the President of Fiji, Jioji Kenrote. According to E!, Meghan's dress of choice was a blue Gingko cape dress designed by Safiyaa, which you can actually purchase for $1,431. While some may suspect the color is a nod to her future baby's sex, the Daily Mail reports the shade is actually considered "Fijian blue," aka, a tribute to Meghan's current hosting country.
Meghan dazzled in the ensemble while gently cradling her baby bump.
If you zoom in, you'll also notice cascading chandelier earrings framing Meghan's face, too. According to E!, the Queen loaned these diamond earrings to Meghan for this event, specifically. Fiji is reportedly very near and dear to Queen Elizabeth II and her husband Prince Philip who have visited the country six times during her reign.
Apparently, the State Dinner was held at the Grand Hotel, a location the Queen and Prince Philip have stayed at previously. Harry made mention of this in his welcome speech at the dinner. "This visit is particularly nostalgic for us as a young married couple," he said. "My grandparents stayed in this very hotel, the Grand Pacific, a number of times over the years."
He went on to mention how special it was for him and Meghan to visit during their first tour together and how kind the Fijian welcome had been. "It is a great pleasure for Meghan and me to be your guests here tonight on our first visit to Fiji," he said.
We were overwhelmed by the warm Fijian welcome we received from the people of these beautiful islands this afternoon in Albert Park, and all the way from the airport! It really is a privilege to be here. As you know, Fiji has a long tradition of welcoming royal visitors over the years, and our two countries have enjoyed a close relationship and friendship. We share Commonwealth values and common goals—a love of rugby and a sense of humor!
While Meghan's dress may or may not be winking at their baby's sex, Prince Harry recently revealed he hopes they have a girl. In a video circulating on Instagram, a fan shouted out to Harry "I hope it's a girl!" The Duke of Sussex called back, "So do I!"
Clearly, nothing is confirmed yet, but damn, Meghan. Blue looks good on you.