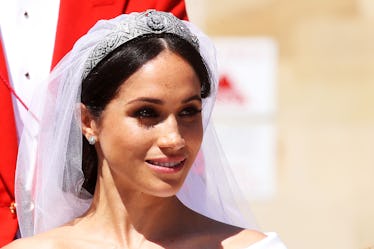 Meghan Markle's Wedding Day Hair Was MEANT To Be Messy & This $3 Product Was Key
Chris Jackson/Getty Images Entertainment/Getty Images
Prince Harry and Meghan Markle's royal wedding was this past weekend, May 19, and it would have been impossible to miss, even if you tried. But why would you? Something about the day that flew slightly more under the radar, however, was the bride's hairdo. Meghan Markle's wedding hairstyle was a thing of lazy girl beauty, and that my friends, is the most relatable part of the entire day.
Many brides commission elaborate updos or spend hours setting picturesque curls for their big day, but not Markle. The Duchess of Sussex, Markle's royal title now that she said "I do" to a prince, opted for a more low-key loose bun for her nuptials. Markle's messy bun look as been a favorite of hers in the past, but I didn't expect her to choose that same style for her wedding day, which happened to be watched by literally the entire world. Alas, I should know by now that Markle is one to break tradition and forge her own royal path, something I very much admire.
The newest member of the royal family also anticipated that her devoted fans would want all of the details on her wedding 'do, so Markle's hairstylist has spilled the baked beans on how he created this, dare I say it, historic style.
Markle used celebrity hairstylist Serge Normant for the event (yes, it was an event), who works with the likes of Sarah Jessica Parker, Julia Roberts, and Blake Lively (NBD). As far as I know, Markle's was the first royal wedding for Normant, and his job was probably easier than expected as he reported that Markle's hair style took less than an hour to do. Normant commented on his inspiration,
Her style is so easy and not contrived. It wasn't about reinvention. She has a beautiful head of hair and is gorgeous, so it was just easy."
The hairstylist even confirmed that the look can indeed be called a "messy bun," so us non-royals can rest easy that Markle is still relatable AF.
During the ceremony, Markle's hair began to come loose, but fear not, it was meant to! "I really wanted it to be loose. There were a lot of little bits [around her face]. I wanted her to be able to tuck it behind her ears if she wanted to do, because that is what she normally does," said Normant of the style. Not too messy:
Messy in a controlled way — making sure it doesn't become a whole mess after a few hours!"
The queen was present, after all.
Normant's prowess really showed through after the ceremony when Markle and her hubby shared their first kiss as a married couple...
...And during their post-vows carriage ride as Markle waved to all her British subjects. Those loose tendrils framed Markle's face in the most beautifully effortless way I've ever seen. How did Normant achieve such low-key glam? I must know.
A little mousse, a little texturizing product just to make it look a bit more shiny. I dried it with a round brush and then used a little iron on the edges just to give it texture. And then put it up. Poof!
Normant confessed that he's not big on hair products so as not to "overload" the wearer, and that the big secret to Markle's put-together yet still messy bun was, drumroll please, bobby pins.
I just used long, regular pins. Things that you could just find in the shop for a few [dollars]. People could recreate it at home, absolutely, maybe even better!
Yup, I'm familiar.
Personally, I'm a fan of this 80 pack from Scunci because you can't beat the price and the pins come in a convenient resealable container. I've yet to receive my lady's maids to help with things like loose bobby pins flying about.
Markle kept the messy bun look going for the reception, as well, leaving even more of her hair loose around her face. The Duchess follows along with most royal traditions, but I admire her boldness when it comes to the little things — who would have thought a few stray strands of hair could say so much? Long live Markle's messy bun!