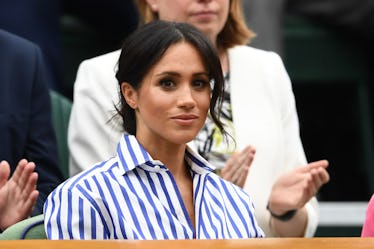 Meghan Markle Just Wore This Hairstyle For The First Time Since Becoming A Royal
Clive Mason/Getty Images Sport/Getty Images
Growing up, I had insanely thick, frizzy, totally unmanageable hair, so when I was first introduced the straightener (sometime around eighth grade), I became hooked. My entire high school experience revolved around my pursuit of super straight strands. In four years, I went through multiple flat irons and countless bottles of heat-protecting spray, but I've learned a few hairstyles since then. In fact, I haven't had hair that sleek since high school, but Meghan Markle's straight hair is making me want to bust out my flat iron again.
The Duchess of Sussex attended the Coach Core Awards at Loughborough University in England on Monday afternoon and immediately, everyone noticed how different she looked. Instead of wearing her signature relaxed waves or her go-to messy bun, she showed up with pin-straight hair. We haven't seen her in a hairstyle this sleek since before she became on official Duchess.
And trust me, it looked nothing like my flat-on-top-fried-at-the-ends hairstyle from senior year — Markle's 'do looked smooth, shiny, bouncy, and incredibly polished, but somehow still totally effortless (how does she do that?). Markle managed to achieve frizz-free, and healthy-looking straight ends that flowed in the wind, without losing any volume at the crown and I can feel a surge in flat iron sales coming.
Get Her Look
There's a science to getting the sleek-but-not-flat straight hairstyle. To get Meghan Markle's look, start by working a blow-dry cream into wet hair from roots to ends. This gives you a ton of shine, eliminates frizz and even protects your hair from heat damage. I like Garnier Fructis Style Smooth Air Dry Sleek Anti-Frizz Cream ($4; Target). Next, use a round brush to blowdry your hair, focusing on lifting at the roots — this gives you Meghan-Markle height at the crown of your head. Now, it's time to break out the flat iron. I love this T3 SinglePass Compact Iron ($89; Sephora) because it's compact, pretty and gets super hot without burning your hair. To keep the volume on top, run your straightener through your ends without getting too close to the roots — start straigtening about halfway down the shaft of your hair.
I just wish I could go back and spend my high-school years doing my hair like this instead.
Markle's Mane Styles
The straightest we've seen Meghan Markle's hair since becoming a royal is this relaxed wave. It's glossy and free of frizz, just like her latest look, but this one has a bounce in the midlengths and a soft bend throughout.
Markle loves this look so much, she wore an almost-identical, slightly messy, and sophisticated updo on her historic wedding day. She loves a center part with strands that frame the face and bun that sits low on the nape of the neck. It's so refreshing that she could care less about flyaways — it makes her super relatable.
I'll let your choose what Meghan-Markle hairstyle you'll recreate. I'm going with all three.