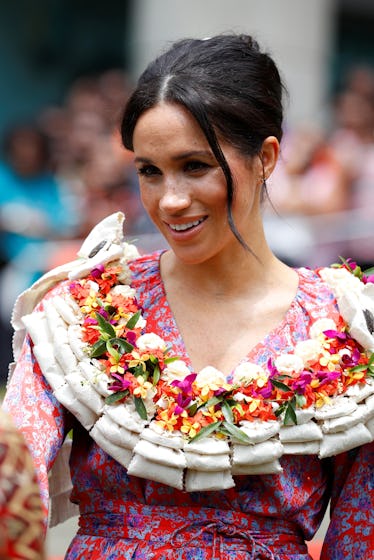 Meghan Markle's Speech About Putting Herself Through College Is So Inspiring
Pool/Getty Images Entertainment/Getty Images
Meghan Markle continues to dazzle the globe as she and her husband Prince Harry enjoy their first tour together as husband and wife. The Duke and Duchess of Sussex are visiting Australia, New Zealand, Fiji, and Tonga, and the press has been keeping the public all over the world up to speed on all of their epic engagements. Most recently, Meghan gave an empowering speech at a university in Fiji where she discussed the importance of education, particularly for women. During this talk, she implied she put herself through school. Meghan Markle's comments about paying for college are not only so inspiring, but they also seemingly debunk her half-brother Thomas Markle Jr.'s claims that their father put her through school with lottery money. Elite Daily reached out to Kensington Palace for clarification on this matter but did not hear back by the time of publication.
The Duchess of Sussex delivered her speech at the University of the South Pacific in Suva, Fiji, on Wednesday, Oct. 24. She approached a podium in front of a crowded room of students and staff where she began her speech by offering the Fijian greeting, "Bula Vinaka." From there, she dove right into the benefits of attending university, reflecting on her time as a student at Northwestern University.
"As a university graduate, I know the personal feeling of pride and excitement that comes with attending university," she said. "From the moment you receive your acceptance letter to the exams you spend countless late nights studying for.... the journey of higher education is an incredible, impactful and pivotal one. I am also fully aware of the challenges of being able to afford this level of schooling for many people around the world, myself included."
Prior to Meghan and Harry's wedding, Thomas Markle Jr. once told The Daily Mail his and Meghan's father once won the lottery. According to Markle Jr., 'That money allowed Meg to go to the best schools and get the best training." However, based on Meghan's speech, this may not be true.
Meghan continued,
It was through scholarships, financial aid programs and work-study where my earnings from a job on campus went directly towards my tuition – that I was able to attend university. And, without question, it was worth every effort.
It is possible that Thomas Markle Sr. could have helped pay for Meghan's schooling with his lottery money. It's also possible that his lottery earnings went to help pay for Meghan's elementary schooling (she was only nine years old when he reportedly won the lottery). But what's clear based on her speech is that Meghan was her own biggest contributor when it came to paying her college tuition. Elite Daily reached out to the Palace for clarification, but did not hear back by the time of publication.
Anyway, back to Meghan's speech. The Duchess impressed the importance of girls receiving access to higher education, particularly in developing countries.
"Everyone should be afforded the opportunity to receive the education they want, but more importantly the education they have the right to receive," she said. "And for women and girls in developing countries, this is vital. Providing them with access to education is the key to economic and social development. Because when girls are given the right tools to succeed, they can create incredible futures. Not only for themselves, but also for those around them."
Her entire speech was empathetic and powerful, and also was fortunately videotaped for people to watch on Twitter.
There is also a full transcript of her speech floating around, too.
Meghan ended by congratulating the students in the room, reminding them their education efforts will help set them and their communities up for a positive future. "Congratulations to you all," she said.
Harry and Meghan's tour continues to be the highlight of my fall.