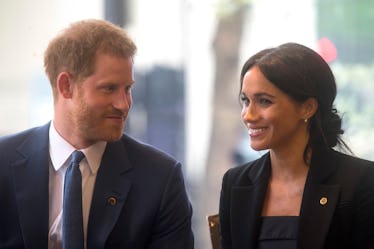 This Video Of Prince Harry Fixing Meghan Markle's Hair Will Make You Love Them Even More
WPA Pool/Getty Images Entertainment/Getty Images
Anyone who watched the royal wedding back in May knows that Prince Harry and Meghan Markle, the Duke and Duchess of Sussex, are madly in love with each other. The look of love was written all over their faces that day, and now, a few months later, nothing has changed. Harry and Meghan have made their fair share of public appearances since they tied the knot and every time the cameras are rolling, they show the world just how well they blend together. Take the new video of Prince Harry fixing Meghan Markle's hair, for example. It's the perfect example of why the world loves this couple so much.
On Thursday, Sept. 20, Meghan hosted a launch party for Together: Our Community Cookbook, a charity cookbook that she had a hand in creating. The party was a packed event, giving the royals a chance to spend some quality time with people from all cultures and walks of life.
While hosting the party at Kensington Palace, Harry and Meghan found themselves caught up in a gust of wind. As the wind swirled Meghan's hair up into the air (and into Prince Harry's face), Prince Harry took the opportunity to pass his hands over Meghan's scalp to smooth it. Meghan, of course, received the gesture with lots of love and grace. They were both all smiles as the whole thing unfolded. And it all made for a really sweet moment that fans are swooning over right now.
ITV News Royal Editor Chris Ship caught the moment on camera and took to Twitter to share it with the masses. Here's a look at the sweet video he shared:
As you can imagine, this little moment between Harry and Meghan was shared far and wide. Fans are literally going wild over how cute the Duke and Duchess of Sussex are. This is what they're saying on social media right now:
So, fans are super happy to see how Harry and Meghan's love is playing out for the cameras. To be fair to them, though, it was a really sweet moment between the royals.
ITV News also caught another interesting moment on camera. This time it was of Prince Harry stealing some samosas from the event the couple was hosting. In the video, Prince Harry can be seen waltzing back into the crowd while hiding something behind his back. He plays coy and kind of shrugs off his effort to steal some food. But then he eyes the camera filming him and gives a huge smile.
Watch Prince Harry swipe some food from an event at Kensington Palace:
Prince Harry may not be the greatest food thief in history, but he was obviously feeling very playful and the cameras definitely captured that! All in all, it's great to see him and Meghan looking so happy together. It's very clear that married life suits them well.
In any case, it's lovely that Harry and Meghan show their love and affection for each other, even in front of a crowd. That's a totally different approach to public life than many other royals take. So, it's really refreshing to see!