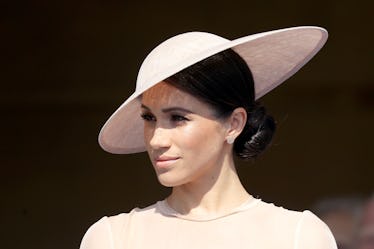 Meghan Markle's Hair Is SO Different Now That She's Legit Royal & You've Gotta See It
Chris Jackson/Getty Images Entertainment/Getty Images
Meghan Markle has been the Duchess of Sussex for three days now, and she's embracing the title brilliantly. Markle's fashion style has always been impeccable, so not much is new there, but one part of her look was noticeably changed. Meghan Markle's hair at Prince Charles' 70 Birthday was practically an international departure from her pre-royalty days.
Markle and her hubby, Prince Harry, have chosen to postpone their honeymoon and stick around London for a bit to settle into married life. The duo made their first post-wedding outing as man and duchess at Harry's father's 70 birthday party. Prince Charles doesn't turn the big 7-0 until Nov. 14, but I guess when you're the Queen's son, you can celebrate all year long if you want. To be fair, the garden party was actually to highlight Charles' charitable work and to honor the foundations that he supports. Markle, however, inadvertently stole the show with her new hairstyle.
As most of the world saw, Markle's wedding hairstyle was an intentionally messy bun, a choice that surprised 29 million people (because that's how many people in the United States watched the royal wedding). Social media was flooded with tweets about Markle's hair, though, and perhaps the duchess has changed her ways.
This one strand of hair was the culprit that brought on the Twitter-storm. Viewers thought it was too unkempt, and how could Markle not make sure everything was in place?! Markle's wedding hairstylist, Serge Normant, assured the world that it was on purpose and that the bride wanted a casual, easily achievable hairstyle. The brutal tweets may have caught Markle's ear though, because for her first official royal appearance since the wedding, things are a little more in place.
Look. At. That. Bun. There is nary a stray hair. For both the wedding and for Prince Charles' garden party, Markle wore her hair in a low bun, sitting at the base of her head. The big changeup was that for her bridal look, Markle left loose the hairs in the front so they softly framed her face, but three days later, the former actress wore a much sleeker chignon.
Even from the back, that' the most regal bun I've ever seen.
Markle giggled her way through much of the event and still, not one hair strayed from its god-given place.
Markle's polished hairstyle complimented her equally refined outfit. A pale pink Philip Treacy hat topped off the newlywed's hairstyle — Markle has chosen Treacy's designs multiple times before, including her brown Christmas hat. Markle also wore the Flavia dress by Goat ($790; goatfashion.com), Tamara Mellon Siren Pumps in Blush ($450; tamaramellon.com), and Vanessa Tugenhaft Idylle Earrings ($1,878; vanessa-tugenhaft.com).
The look was accessorized with a Wilbur & Gussie Charlie Oyster Silk Clutch ($275; wilburandgussie.com), a Cartier Essential Line diamond bracelet ($20,600; cartier.com) which Harry reportedly gave Markle as a wedding gift, and Markle's engagement and wedding rings because, duh.
Twitter approved of Markle's newly neatened hairstyle: "#MeghanMarkle looks pretty today. I like her make up and hair here more then on her wedding day."
Some fans are already conspiring to copy the look, "If I start wearing my hair in a low bun and a fascinator, like all the time, that's normal, ya? #loveher #MeghanMarkle."
One user pointed out her concern for Markle losing her true identity and turning to a royal robot: "I just hope becoming a 'Royal' doesn't extract every bit of character from her, not quite an Eliza Doolittle transformation, but already looking a template Royal however still very beautiful!!!"
The world will have to wait and see whether or not Markle reprises her messy bun in the future, but having to lose a few stray hairs is a small price to pay for becoming literal royalty. Either way, Markle's hair looks phenomenal, and I can't wait to see what she does next.