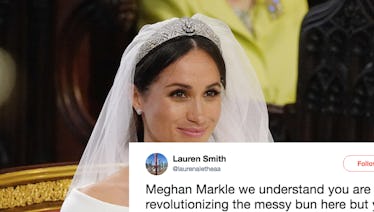 Twitter Can't Get Over Meghan Markle's Out Of Place Strand Of Hair, Because She's Just Like Us
WPA Pool/Getty Images Entertainment/Getty Images
Everything about weddings makes me want to cry all of the happy tears. Besides the fact that two people are uniting in holy matrimony, watching a bride feeling confident and looking her best gives me all of the feels. That's why when I saw Meghan Markle's royal wedding hair, I couldn't help but slow clap, because she looked stunning. The tweets about Meghan Markle's royal wedding hair, however, all react to one tiny hair that's fallen out of place, which basically proves she's just like us.
Markle sported a low bun styled by celebrity hair stylist Serge Normant. The look is so on point; I'm jotting down notes for my future wedding day. And while the Twitterverse certainly admired her understated wedding style, viewers were quick to identify an errant hair (because I'm sure everyone watching at home and tweeting has absolutely perfect hair.)
In between tearing up over the procession into the wedding and wishing I was back in London, I couldn't help but notice that Markle's hair was coming undone myself. Now I'm not picky, so I didn't pay any mind, especially since I was completely engrossed with dissecting her simple AF Givenchy dress.
However, the internet lit up with impassioned opinions over Markle's rogue strand.
"Meghan Markle we understand you are revolutionizing the messy bun here but your wedding day is not the time to allow a loose piece of hair #bobbypins"
"Meghan Markle's hair is coming undone and I want to jump into the tv screen and fix it. I can't focus on anything else #RoyalWedding"
"Does #MeghanMarkle 's stray hair have a twitter account yet? #RoyalWedding2018"
"Look at her face, her makeup, hair, dress and "simplicity" #RoyalWedding#MeghanMarkle"
Many viewers were left a bit confused as to why Markle's hairstyle seemed out of place. Although others loved the messy updo, some felt as though it should have been a bit more polished, especially since it was a royal wedding.
"Sorry Miguel Perez ... but Meghan Markle's hair is just plain out a mess. #epicfail"
"Who is responsible for Meghan Markle's hair and makeup?! #RoyalWedding"
"Meghan Markle looks stunning in @givenchy but that one piece of unruly hair that's separated from the rest is going to haunt me for life #royalwedding"
"I love Meghan Markle. But, she deserved to fancy up a bit more. I would have been a little more put together with the hair and have a fancier dress. The personality she shows the world does not match that wedding gown."
Many women rejoiced over the fact that the relaxed and relatable messy bun has just been immortalized in the most royal fashion.
"#MeghanMarkle is so damn relatable. This girl just woke up, wore a bridal dress, placed a f*cking tiara on her head and came to the church without giving a f*ck about washing her face or combing her hair. Girl, you have all my respect."
"Meghan Markle and the messy bun gives hope to the lady with the messy hair. Maybe I'll meet my soulmate, or someone who texts regularly. Ah, #RoyalWedding"
While it was rumored that Miguel Perez was going to craft Markle's royal wedding hair, the palace confirmed that Serge Normant created the look. Normant is a celebrity hairstylist that has created looks for Sarah Jessica Parker and Julia Roberts.
Meghan's low updo was parted down the middle with a center part and was adorned with Queen Mary's diamond bandeau tiara, which was lent to her by the Queen. According to Kensington Palace, the diamond bandeau tiara has English heritage and dates back to 1932, with the entre brooch dating back to 1893. Talk about no pressure carting those two around over your messy bun.
Although many people expected to see a more lavish hairstyle, I'm actually not surprised that Markle kept to her signature look. My favorite trait of Markle's is that she seems confident in what works for her, and sporting the updo she's made synonymous with her name at her wedding is so self-assured. I personally would have loved a more intricate hairstyle, but Markle is known for her royal rule-breaking style, and you've got to respect that.