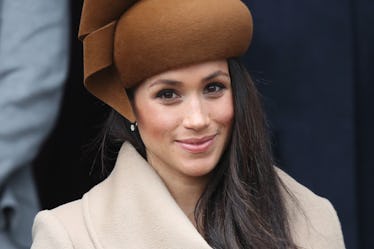 Meghan Markle Wore An Epic Hat For Her First Royal Christmas & We're Screaming
Chris Jackson/Getty Images Entertainment/Getty Images
It's only been a few days since the engagement photos of Prince Harry and Meghan Markle rocked the internet. Now, the first photos of Markle spending Christmas Day with the royal family are here. This is a huge break with tradition according to royal experts interviewed on Entertainment Tonight, as usually the royal family Christmas, complete with a trip to St. Mary Magdalene Church in Sandringham, is reserved for those who are already married into the family. Our latest royal-to-be forged this new path with aplomb and panache on Monday, Dec. 25, as well as with a fabulous outfit and the internet's new obsession: photos of Meghan Markle's Christmas hat.
Before we get to the hat, let's talk about Markle's full Christmas outfit. Her outerwear was a $1,295 Sentaler calf-length camel coat, a Toronto brand, according to Cosmopolitan, once again continuing her habit of favoring Canadian designers as she has done since her first official appearance. Unlike some of her other choices, this one is a line also favored by Kate Middleton, cementing the message being sent by this appearance that the two of them may become close friends. The rest of her outfit included a pair of $798 brown Stuart Weitzman boots and a $1,550 Chloé bag. And, of course, a hat.
Markle and Middleton walked together to the church service and were described as "smiling and laughing" together, according to Cosmo, which serves to also bolster Markle's statement that Middleton is helping her adjust to palace life. We also got to see Markle curtsy to Queen Elizabeth in public. This is certainly not her first time meeting the queen, but it is the first time she's done so in public.
But let's get back to the hat. Take a good look at it.
Let us be clear: This is not what we hear called a "fascinator," which is actually "a large decorative design attached to a band or clip," according to Dictionary.com. A fascinator may have a small hat-like base, but cannot be worn on the head without a clip. Markle's hat, on the other hand, despite the decorative twirl, is a proper hat that sits on the head. It's far too cold on Christmas to wear a faux hat; real hats are needed to keep warm.
The internet was all here for Markle's hat.
Considering what a hit both Middleton and Markle's headgear were, perhaps Prince William should attempt a hat next year.
There were some royal fans who though that Markle could not possibly have come to that hat choice on her own. They're probably wrong.
Others agreed that her ability to step up on the fashion front was proof she would fit right in to the family.
This did lead to those who are new to the process to ask questions.
All royal watchers know that the hats are the most important part of nailing royal fashion.
Some compared it to the tradition of church fashion, but with a royal twist.
Others decided that it was making them impatient for the Christmas pudding that follows dinner.
A few were a little rude in their comparisons, unfortunately.
Despite the fact that the royal family does have Twitter, I believe most presume that emojis are still not an acceptable form of communication, artistically rendered or no.
Some felt that after the way 2017 has gone, that this was the only thing in the universe worth wishing a Merry Christmas.
Though there's no proof that the hat was approved of by Queen Elizabeth, she did mention how much the royal family is looking forward to adding new family members next year, according to The Hollywood Reporter.
Personally, I'll take that as a ringing endorsement.
Fans are looking forward to her arrival into the family, too. From what she's shown so far, this may be the most seamless transition from commoner to royal ever accomplished. With hats like that, there is no fear of Markle sticking the landing on her wedding day.