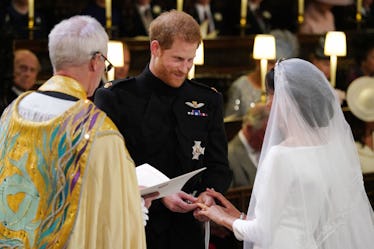 Meghan Markle Got A Shiny New Ring From Prince Harry, But Her Finger Is Missing Something
WPA Pool/Getty Images Entertainment/Getty Images
If you listen really closely, you can almost hear the sound of hearts breaking around the world. Plenty of little girls dream of becoming a princess — if not for the opportunity to move into an actual castle, then for a life of royal galas and closets full of fancy gowns. Then, there's also photos of Meghan Markle's wedding ring that could make any girl long for a life of royalty. It's the ultimate fairy tale after all. But before you go crying in your tea, here's everything you need to know about the Duchess of Sussex's wedding band. You know, in case you want to copy it, forward it to your future prince or princess, or treat yourself to a new piece of royal-inspired jewelry.
I fancy myself more of a white gold type of gal. Although I swap out yellow gold necklaces, rings, and bracelets on occasion, I always pictured myself with a silver-toned wedding ring. When my husband went shopping for an engagement ring (long before I even imagined he'd propose), he stayed far away from the yellow gold jewelry. And it's a good thing he did, because I couldn't imagine telling him I didn't like my engagement ring.
Though the future Duchess is pretty minimal in her approach to jewelry, and always has been, Prince Harry presented a gold Cleave & Co. engagement ring to his future bride. While it's hard to tell Markle's style from her lack of jewelry, Harry might've let tradition be the deciding factor in his ring selection.
Though it's not a family heirloom per se — the two side diamonds belonged to the late Princess Diana but were set into an entirely new band — the ring follows official royal rule. I knew Meghan Markle was breaking barriers in so many ways, but it's so sweet to see her following Prince Harry's family tradition in others. After all, marriage is all about compromise, right?
But what makes it so traditional, you ask? The band is made of Clogau-Welsh gold, which has been a wedding tradition in the family since 1923. Even Queen Elizabeth's wedding ring, from her marriage to The Duke of Edinburgh, is crafted from a nugget of pure Welsh gold from the Clogau St. David's gold mine. Then, 64 years later, Kate Middleton paired her plain gold wedding band with her white-gold, 12-carat oval Ceylon sapphire engagement ring (which Prince Charles proposed to Princess Diana with in 1981). Basically, gold wedding bands are just what the royals do, and now that Meghan Markle is a royal, she seems to be following suit.
So it's no surprise that during their much-anticipated royal wedding ceremony, on May 19, 2018, the new Duke of Sussex slipped a gold band on his bride — it is tradition after all. The ring was reportedly made out of the exact same Welsh gold that Markle's engagement ring was crafted with. Another bit of British ring etiquette that may be surprising to you is that most men in the royal family actually opt not to wear a wedding ring. Wait, what!? However, according to Harper's Bazaar, Harry has opted to wear the band.
Judging from the pictures, it seems Markle opted not to wear her engagement ring during the ceremony. I'm so used to brides wearing their engagement rings forever. They show up to the ceremony with the sparkly diamond on their left ring finger, then during the vows, the wedding band is slipped on to sit side-by-side with the engagement ring. I was engaged for two years and I couldn't imagine packing my ring away after only two years. Even now, I still sometimes look down at my engagement ring, and I've been married for a couple of years now — and mine looks nothing like Markle's.
But regardless of my own preferences, it seems Markle is treasuring the traditional values of the royal family. And she looks stunning while doing it.