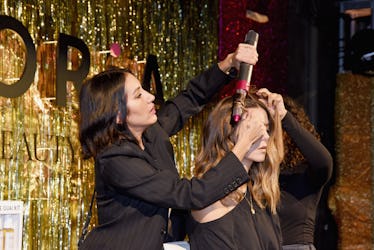 How To Get Tickets For The Mane U x Dyson Masterclasses, So You Can Learn From Jen Atkin Herself
Presley Ann/Getty Images Entertainment/Getty Images
Whether you're a working hair professional or just someone looking for tips on how to tame unruly strands, Jen Atkin is the hairstylist with all the answers you seek. Lucky for all of us, all you need to do to reap her wisdom is find out how to get tickets for the Mane U x Dyson Masterclasses she's teaching this season, and spoiler alert: snagging a spot couldn't be easier. For the record, that's because Atkin herself insisted the classes be completely free for attendees, and she's used her star-power and her determination to make this dream a reality.
If you need a refresh, Jen Atkin is one of the most major celeb hairstylists in the biz at the moment, known for crafting the most effortlessly chic looks on her celeb-turned-BFF client list, including the Kardashians, the Jenners, the Hadids, Chrissy Teigen, and more. Not only a stylist, she's also the founder of cool-girl product line Ouai, as well as Mane Addicts, a site devoted to all things hair. According to Atkin herself, the latter was born out of the insistance of her friends, who urged her to create a space to further show off her talents and better the hair community via inspiration and education.
"I started Mane Addicts out of peer pressure. We had a friend group, and everyone just kept pushing me, like 'You're so good at Instagram, you do all these collages, you love to inspire people, you need to just do this already!'" says Atkin. "There was a huge need for a brand-agnostic place for people to go learn about products, to learn about hair trends, and for professionals to connect together. I'm a huge believer in collaborating and not competing."
Along with Mane Addicts came Mane University, and the opportunity for Atkin to teach in-person, not just online. This year, Mane U has teamed up with hair tool brand Dyson to create a three-city tour, featuring specific classes geared at hair-lovers and working hair professionals, respectively. The New York-based classes happened on October 28, but you can still catch the tour on November 11 in Los Angeles and November 18 in San Francisco. Attendence is completely free, but space is limited, and to register you have to head over to the Mane Addicts site and sign up before it's too late.
When I attended the NYC class this past Sunday, Atkin asked a crowd of professional stylists if it was the first free hair class they'd ever attended. Virtually everyone at the sold-out event said yes, and while disappointed, Atkin wasn't surprised. "It always killed me that as a hairstylist, you go to hair school and then you're done," said Atkin. "Like, you just have to hope that somebody teaches you something, or or you observe something! Now, you can watch Youtube, but there's nothing that hands-on where you can really study somebody or really learn."
At the start of last year, Atkin had the idea to create a free class, but she knew it would take a lot to get brands on board when it came to sharing the price. After working with Dyson on the launch of their new Airwrap, a tool the brand invested $30 million in to perfect, she finally had her sponsor.
"I would've died to have [a free class] when I first started...the only things that were out there were like $500 or $1000 classes," said Atkin. "This was so important for me to do because I remember when I first started out, being so broke. Even now — with what I make now, I wouldn't spend $1000 and go to a class. It just doesn't seem fair."
"I also kind of felt like, as we were doing our own classes with Mane U, I was seeing a lot of the same faces. It was a lot of hairstylists who had a great career and were working in really nice neighborhoods and good salons, who had access to us," admitted Atkin. "As a hairstylist, I wanted consumers to have a place to go to learn about hair trends and hair products: tools, extensions, and all that. Then, I wanted for professionals to really have a place to go and learn."
Besides the opportunity to meet her fans, create some fun looks, and talk hair, Atkin says there was a much more important reason behind her wanting to make free hair classes a reality for working hairstylists: "You have to never stop learning," she insists. "I was like the 40-year-old assistant! I never stopped assisting (I was, like, 28) and it changed my life, because I got to learn from Guido Palau, I was backstage doing shows with Bob Recine, and I got to watch these different masters."
As someone who considers Atkin herself a master, I can say I left the class with a Notes app full of tips and tricks, as well as some serious motivation to start putting a little more effort into my hair, especially if my ideal end result is a seemingly effortless look. To get tickets to the upcoming Los Angeles and San Francisco classes, head to the Mane Addicts site and sign up now.