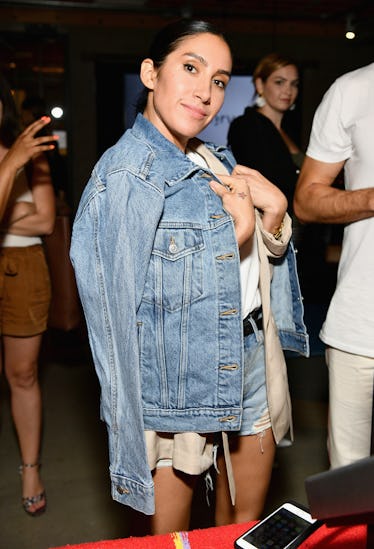 The Kardashians' Hairstylist Is Teaching Free Classes, So You Can Learn All Her Hair Secrets
Emma McIntyre/Getty Images Entertainment/Getty Images
Yes, her career took off under the distinction of "the Kardasians' favorite hairstylist," but there's no denying that Jen Atkin is now a name that needs no introduction or correlation. In fact, she's one of the most widely-known, highly-praised hair goddesses in the game, and her business smarts and hair skills speak for themselves beyond her famous clientele list. Finally, Atkin is gracing her super fans with what we've been asking for since we first fell in love with her tousled, textured creations: some first-person hair advice, straight from the industry pro herself. Similar to Mario Dedivanovic's highly popular makeup masterclasses, Atkin will be hosting the Mane U x Dyson Hair Masterclass coming to three US cities very soon. And guess what? Attendance is totally free.
Like I said, Atkin is now a household name in the hair industry, but if you aren't as hair-savvy, let me backtrack and fill you in. Atkin started working in a hair salon as a receptionist way back in 2000, but her career took off even further about 11 years ago when she started doing hair for Dior's John Galliano. It wasn't long until her talents were sought after by the biggest celebs in the biz, from the Kardashians, the Jenners, and the Hadids to Chrissy Teigen, Rosie Huntington-Whiteley, and Kaia Gerber.
The coolest part about Atkin's celeb clientele lineup is that they're also some of her BFFs:
Oh, and when she's not helping them prep for events? She's running her own haircare brand, the ultra-chic, cool-girl favorite Ouai Haircare:
Maybe you've heard of it? Kind of a big deal? Most likely in your haircare cabinet at this very moment? Yeah, that Ouai:
Anyouai (lol), in addition to her hairstylist services and her haircare brand, Atkin is also the founder of Mane Addicts, a website devoted to all things hair-related. However, she's quickly realized that an online presence isn't enough, and she's teamed up with longtime brand partner Dyson to schedule free Mane U x Dyson classes in three major cities across the country, so fans and hair pros alike can gather and talk all things hair with Atkin in person.
Catch me in the corner with a recorder and a notepad, because everything this woman says about hair is gold, and I refuse to forget even one tip:
So, when and where will the Mane University classes be held? Class will officially be in session on Sunday, Oct. 28, in New York City; Sunday, Nov. 11 in Los Angeles; and Sunday, Nov. 18, in San Francisco. Admission is free, but space is limited, and you can sign up now on the Mane Addicts site to reserve a spot.
During each class, Jen will host two sessions (one for consumers and fans, the other for hair pros) and use the Dyson Supersonic Dryer to create a couple of must-have hair looks. After each demo will be a Q&A sesh and a meet and greet, and while all attendees will be gifted a Mane Addicts swag bag full of hair goodies, one from each class will also win the Dyson Supersonic Dryer ($400, dyson.com) to take home and use to recreate the looks learned in class. Lucky!
I'm not telling you to stop reading this and go sign up, but TBH, I kinda am. Go sign up!
If you live in or near NYC, LA, or San Fran, consider this your official invitation to meet Atkin in the flesh and get the scoop on all her hottest hair tips. And not for nothing, but since I'm the one who let you know this was happening, you should really give me that Dyson Supersonic Dryer if you're the lucky winner. Or, at the very least, let me use it to try out Atkin's tips after class. Thanks in advance!