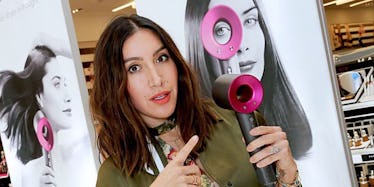 Kim K's Hairstylist Says You Can't Travel Without This One Outrageous Product
Rachel Murray/Getty Images for Sephora
Look, I'm not a professional hair expert. I don't know what's good, bad, or stupid to do to your hair. I do know that if I had a magic wand, I would give myself Kim Kardashian's luscious locks, and for those reasons I might pay attention to whatever (or whoever) does her hair. Kim Kardashian's hair stylist, Jen Atkin, says there are a few essential hair items we should never travel without, and I am listening. 
Atkin is as much a close family friend as she is a professional hair guru to the Kardashians, and has worked with them for years. She's also worked with the likes of Bella Hadid, Lily Collins, and Chrissy Teigen and also runs her own hair line, Ouai. Yeah, you might have heard of her.
She recently spoke with Us Weekly magazine about the five products she would never travel without, and one of them is just a touch impractical for your average Jane flying to Naples, Florida, to visit her grandparents.
What, you guys don't do that?
On the list, Atkin included things like a silk pillowcase, her Ouai texturizing spray, some funky hair accessories, a little face moisturizer, and OH YEAH, THIS OUTRAGEOUS $400 HAIR DRYER.
What am I even looking at? Atkin said,
This is the ultimate luxe blow-dryer. It's so small and easy to travel with and dries the hair so much faster than the traditional blow-dryer.
Yes. I see. Just wondering, like, how? And why does it need $400 to do it?
Here, watch this equal parts alarming and soothing explanatory video.
Right. A LIKELY STORY.
Still, the proof is in the Kardashians' hair pudding. These girls look fierce 24/7, and I imagine you don't become a celebrity hair stylist by messing around with BS products. I'm just trying to figure out how many Chipotle Burrito bowls less I need to eat this month to save up for it.
Anyway, Jen, thanks for the tips. I honestly think you're really cool and wish we could be friends IRL. Follow me if you want to or, like, whatever...