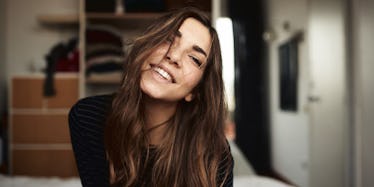 This Inexpensive New Hair-Care Line Smells Better Than Any Fancy Perfume
I don't do anything halfway.
I can't just enjoy munching a snack, I need to buy it in a family-size bag and eat all of it over the course of two days. A new pair of shoes isn't fun until I've worn them so much the straps break.
The same thing is happening now with the shampoo and conditioner sitting innocently on the back shelf of my bathtub. As a self-professed shiny hair enthusiast, I'm always on the hunt for hair products that feel luxe and really getting the job done. You could probably sell me straight coconut oil in a jar for $60, as long as you package it expensively.
Jen Atkin, the on-call hair stylist for stars like Kim K and Chrissy Teigen, has finally answered my prayers with her brand new Ouai hair care line. Even the name is cool: "Ouai" is the French-kid way to say "yeah."
With its Instagrammable, clean packaging and curated selection of products, Ouai is designed to be the cool-girl way to get fancy hair at an affordable price. When the line launched, I couldn't wait to get my hands on the "Smooth" shampoo and conditioner, both of which retail for less than $30.
After several days of washes, I can confidently say it's not just the formula that's won me over; it's the signature scent of both products that's unforgettable.
Ouai Smooth Shampoo, $28, Sephora; Ouai Smooth Conditioner, $26, Sephora
Atkins products have five very distinct fragrances, formulated similarly to perfumes. Ouai No. 1, my shampoo's scent, is a "floral/musky" mix of Turkish rose, lily, musk, jasmine and lemon. The conditioner, on the other hand, is scented with Ouai No. 2: bergamot, sandalwood, amber, patchouli and cedar-wood.
Atkin says the intoxicating fragrances were inspired by both a childhood spent in Hawaii and an adoration of "soft, expensive-smelling things."
Sound sexy? That's because it is -- you almost have to sniff it to believe it. I'm usually in-and-out of the shower, but not when using Ouai. I stay in longer, squidging my fingers around in the shampoo's lather and enjoying the fragrance. That, my friends, is the definition of luxury.
I imagine the Ouai scent is what a sexy French woman smells like on her second day without a shower, when she looks flawless but a little tousled. Yes, it's come to this: I aspire to smell like a European woman's armpit.
My shame doesn't just end there, either. I've asked co-workers, friends and my boyfriend to sniff my hair and have lengthy discussions with me about the notes they pick up on. I'm losing my mind, but I'm not mad about it.
The best part? Not only does the line smell so good it'll have you asking strangers to sniff you, but it's also paraben and cruelty-free. I'm currently experiencing the glossiest locks I've had all winter, thanks to Ouai. I'm sold.
Now, if only Atkin would just bottle up No. 1 for me. So far, it's only been a limited edition perk.